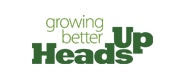 Heads Up Landscape Contractors has hired a number student interns from five different colleges for 12 weeks of on-the-job experience.
These students are studying business, landscape design, landscape management, horticulture and other disciplines.
Interns from UNM Anderson School of Business are Corine Garcia, Amber Goon, Terra London, Kyle Mazzei, Jake Mechenbier, Patrick Partridge and Katie Schroeder.
Landon Huckins, Tyler Maly and Anna Oostong come from Oklahoma State University, Kellen Stewart and Lance Wright attend Kansas State University and Michael Vampran is from Mississippi State University.