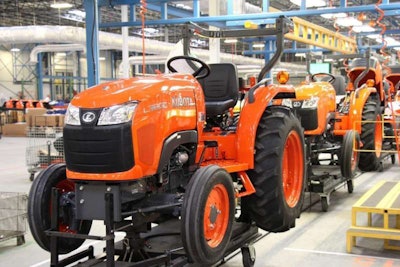 Kubota Tractor held its grand opening ceremony and ribbon cutting on Monday in Jefferson, Georgia.
This grand opening marks the completion of the Kubota Industrial Equipment's $73 million manufacturing plant expansion, which will bring more jobs to Georgia. The 522,000-square-foot plant on the 88-acre site recently began production of Kubota's 30- to 50-horsepower compact tractor models.
Georgia Facts: Kubota Products Manufactured in the State
· RTV Utility Vehicles
· BX Series Subcompact Tractors
· Z-Series Mowers, including the ZG "Kubota Kommander"
· Implements and Attachments including Loaders, Backhoes and Mowers
· L3200 and L3800 Compact Tractors – New for 2013 at KIE
To read more about this expansion, click here.