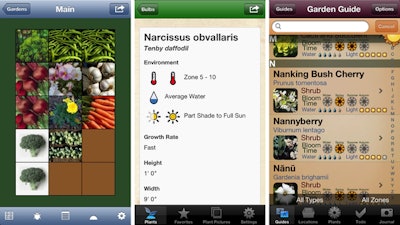 The sun and the earth have revolved to the relevant positions in space, and spring has definitely sprung. While I have the opposite of green thumbs, I now have a handy arsenal of gardening apps to help me in my springtime garden.
Garden Pro, a $4 iOS app, is a reference app that can help you plan and manage your garden. Its main interface is an exhaustive list of flowers, herbs and vegetables, giving for each the common name, the botanical name and icons that indicate when the plant blooms and what type of water and light conditions it prefers.
Tapping on a plant takes you to a page with more information, including what type of soil it prefers and some basic care instructions. You can add the plant to a list of your preferred plants, which is a separate section of the app. In this section, you can program the app to remind you to do things like water — a reminder will pop up when a particular plant is due for a drink.
A To Do section in the app can log events like fertilizing your garden or buying compost. A Journal section lets you enter text and photo notes as your garden grows. It's a great app for more experienced gardeners, and even beginners can use it as a learning resource. But some menu designs are confusing, such as having to go to the separate Plants menu to add a new species to your list, instead of being able to do this in the main plant database.
Read the full article here.
By Kit Eaton