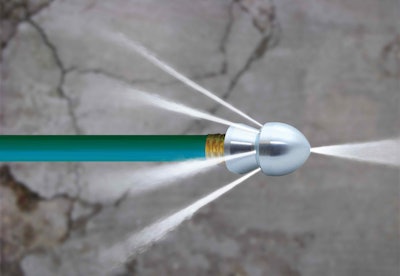 DrainBlaster, a solid metal, high-pressure hose-end nozzle from Underhill International, goes after dirt and debris clogging landscape and outdoor drains. DrainBlaster is also useful in clearing catch basins and cleaning under sidewalks.
Bullet-shaped and constructed from heat-treated, grade 303 stainless steel, DrainBlaster has a two-stage flushing action. A front jet cuts through any blockage while eight rear jets propel the nozzle upline. Optimal operation is 70 to 100 psi.
DrainBlaster also features a wire attachment connector for mapping drain locations under landscaped areas.