Kubota Tractor Corporation has designed a zero-turn mower specifically designed for the residential market.
The Kubota Kommander series, which was first introduced last October at GIE+EXPO, has started the production and selling process of the ZG00 series adding to the Z200- and Z300-series.
The series includes two E models, the ZG124E and the ZG127E; two S models, the ZG123S, and the ZG127S, available in 48- and 54-inch decks.
The Kubota Kommander ZG124E and ZG127E models are equipped with 24 horsepower Briggs & Stratton Pro and 27 horsepower cyclonic commercial turf vertical shaft engines.
The ZG123S and ZG127S models include LED headlights and a full suspension seat. The S models are powered by 23 or 27 horsepower Kohler Courage Pro vertical shaft engines.
Each model in the series is equipped with a commercial-grade hydro-gear ZT-3100 transmission that delivers maximum power to the wheels and a large 4.3-gallon fuel tank capacity.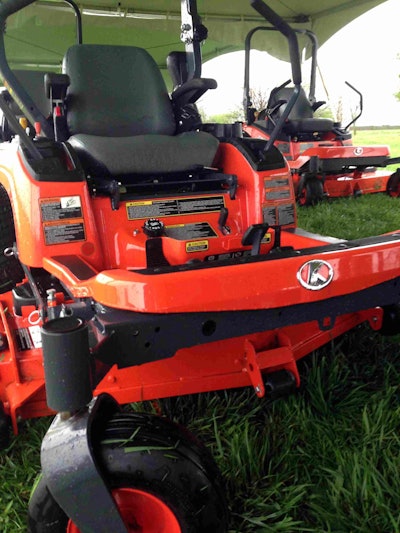 The Kubota Kommander's mower deck is constructed of 10-gauge welded steel. The deck's 5-inch deep design and high blade tip speed allows more airflow through the blades, enabling a higher quality of cut at a faster rate and an even discharge of clippings.
Kubota's exclusive K-Lift mechanical one-push deck lift pedal and dial cam allow the operator to adjust to a wide range of cutting heights in quarter inch increments from 1 1/2 to 4 1/2 inches, for a superior, even cut on a variety of turf types.
[youtube 781S_gHYvqY nolink]