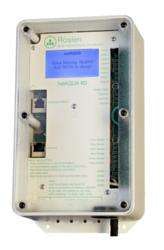 Roslen Eco-Networking Products has released the netAQUA web-enabled irrigation controller on the crowd-funding website Kickstarter.com.
The netAQUA can be controlled from anywhere in the Internet world from any computer, tablet or smartphone and adjusts automatically to changing weather.
Network connectivity, environmental sensor inputs, and intelligence are the key features of the netAQUA. Remote access, automatic adjustment to weather and ease of use are prime benefits to the user. Once connected via Ethernet or WiFi, control and configuration of the netAQUA is done via a web browser (such as Internet Explorer, Chrome, Safari, etc.) on any computer or mobile device.
Features:
Hands-off operation even when there are changes in the weather. A major benefit of the netAQUA is automatic override of the watering plan as a result of external data from Internet weather reports or local environmental sensors.
Water flow can be measured to detect breaks or non-operative valves in a line.
Special watering cycles can be set for clay or sloped areas.
Later this year, Roslen will release the Expansion Module (netAQUA 8EM-8), which connects to the netAQUA 8D. A number of EMs can be controlled by a single netAQUA 8D, and each Expansion Module will add eight zones to the nine provided in the main unit. Configuration and control of the EMs will be completely integrated within the controlling device.
[youtube IZT9LTt1dBA nolink]