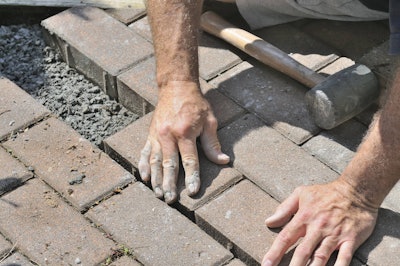 With the steadily improving residential real estate market and recent uptick in sales reported by home improvement retailers, many homeowners are investing more in enhancing their outdoor living spaces this year. The timing of tax returns and current low interest rates are among other factors driving consumer spending.
These positive economic signs point to parallel growth in the hardscaping and landscaping industries, which stand to benefit from increased sales during their busy season.
EP Henry recently surveyed its contractors to identify trends for outdoor living spaces this year.
Topping the list of outdoor design trends for 2013 are:
Outdoor living rooms. "Adding a roof structure over patios allows people to spend more time in their outdoor space," said Joseph A. Nardo , owner of Private Paradise Construction and an EP Henry contractor. A recent survey by the

American Society of Landscape Architects (ASLA)

indicated outdoor living spaces earned almost a 95 percent rating in popularity from respondents.
Multifunctional "kits." This year, EP Henry introduced its Solitaire Kit, which allows customers to convert their fire pit into a fish pond or an aquatic garden. This enables the feature to serve a dual purpose as both a heating source in the cool early spring and fall months and a refreshing water feature in the summer months.
Outdoor kitchens. Adding to outdoor living spaces, certain amenities such as built-in grills, refrigerators, countertops and concrete seating walls make for a versatile outdoor space that can be enjoyed day or night.
Sustainable products. Environmental concerns continue to be a strong driver with outdoor projects. Products such as permeable pavers help the environment by allowing rainwater to recharge the ground, reducing stormwater runoff. They can also be used to harvest rainwater for multiple purposes, such as watering gardens, replenishing ponds and fountains or washing cars. EP Henry's ECO line of permeable pavers brings beauty and functionality to sustainable design.
Natural-looking stone products. "Many of our customers don't like the look of concrete blocks," said Chip Bunch , president of Shan-Gri-La Contractors and an EP Henry contractor. "But the natural look of Cast Veneer Stone coupled with its price point makes it a popular product."