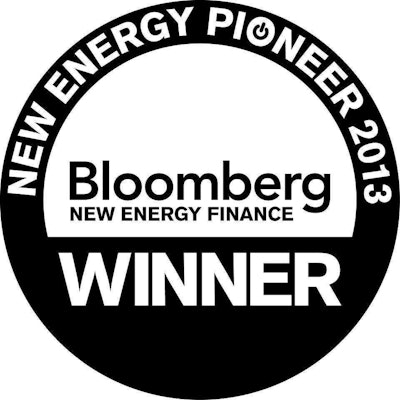 Bloomberg New Energy Finance has announced Harvest Power as a 2013 New Energy Pioneer. The winners were recognized on stage at the sixth annual Bloomberg New Energy Finance Summit in New York City.
Harvest Power diverts discarded organic materials – primarily yard trimmings and food scraps – from landfills and produces renewable energy and soil, mulch and natural fertilizer products through anaerobic digestion and composting.
This year's winners represent a broad range of sectors including bioenergy, energy efficiency, digital energy, solar and water.
The awards program, now in its fourth year, selects 10 New Energy Pioneers each year. This year the independent panel of industry experts selected the winners from more than 200 candidates from around the world, assessing them against three criteria: innovation, demonstrated momentum and potential global scale.
Other 2013 winners include Advantix Systems, BuildingIQ, d.light design, Draker, EcoNation, Ecosphere Technologies, Joule, Opower and Whitewater Technologies.