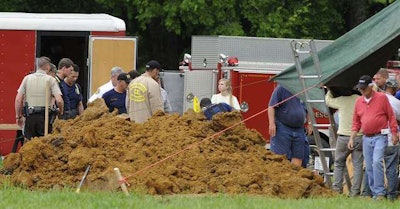 While installing concrete fillings in Hope Hull, Alabama, Wednesday, two contractors became trapped under dirt when the area caved in. Rescue crews were able to pull the men out alive, and they have both been airlifted to a local hospital with non-life-threatening injuries.
The workers were in rebar cages when the accident occurred. While the cause of this specific accident is still unclear, there are ways to reduce the probability of cave-ins like this one. Here are five digging safety practices to follow:
Perform a hazard assessment of the jobsite to determine what PPE is required: eyewear, hardhats, footwear, gloves, clothing or hearing protection.
Train employees in the use and care of PPE.
Personal prescription-corrective lenses do not count as safety glasses, so make sure the employees wear either eye protection that incorporates the prescription or fits over their glasses.
The safety glasses should protect against specific workplace hazards, fit properly, be reasonably comfortable to wear, provide unrestricted vision and movement, be durable and allow functioning of other required PPE.
If the protective eyewear is shared among the workers, the employer needs to make sure the safety glasses are disinfected after each use.