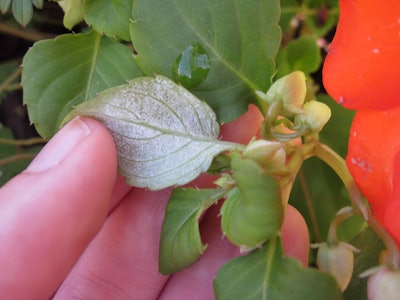 Impatiens may not be a landscaper's first choice this spring.
Downy mildew is spreading like wildfire up and down the West and East coasts from Canada to Texas.
The disease has shown itself in the same areas for the past two years, and experts are saying 2013 isn't going to be any better. The mildew seems to be attracted to Impatiens walleriana.
According to an article from the Chicago Tribune, the disease is a type of water mold that grows in cool and moist conditions. The spores spread through the air through wind and rain and gets into the soil – threatening the life of the plants for years.
The disease has spread so far and wide that nurseries and botanical gardens are not offering Impatiens walleriana this year.
States reported the mildew first appeared in 2004 with a spike in 2011 and more than tripled in 2012.
Looking for other options seems to be the advice of most.
Here are a few other foliage options from our Plant Trends for 2013 article.
Angelonia (Angelonia angustifolia) Large flowers with long flowering time do well in both containers and gardens. Improved varieties such as Archangel Raspberry Improved offer a pop of bright pink color and thrive in heat, humidity and drought. Grows about 12 to 14 inches tall, 10 to 12 inches wide. New Serenita series, available in a variety of colors, grows to 10 inches tall to provide more size options.
Coleus (Solenostemon scutellarioides) Stunning new color combinations offer unexpected pops of color for the landscape. Honey Crisp boasts cream leaves flecked with gold and edged in rose with a red underside. Vino is a deep burgundy color, which intensifies in sun. Reaches 18 to 30 inches tall and 24 to 28 inches wide.
Heuchera (Heuchera x villosa) These heat-tolerant hybrids with mounding habits thrive in shade. Works well in dry shade under trees. Interesting new colors including Heuchera Carnival Peach Parfait (peachy pink), Carnival Limeade (bright spring green) and Carnival Watermelon (pale red). Grow 10 to 12 inches high and 12 to 14 inches wide.