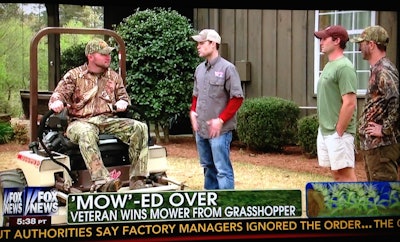 Jeff Foxworthy teamed up with Grasshopper Mowers to grant a military veteran his dream and appeared on Fox & Friends this morning to share the story.
The comedian opened up his farm for wounded warrior Tom Trotter, who was shot in the arm and suffered nerve damage from the war. While on the farm, Grasshopper Mower presented Trotter with a commercial-grade ZTR mower.
"You've done a great service for our country," Trent Guyer, Grasshopper, tells Trotter. "We'd love to give you this mower so you can get started with your contract mower business.
"So often, military vets come home from battle and have a hard time transitioning to civilian life," Guyer says.
"It's a blessing," Trotter says. "I've been jobless since I got out six months ago. This gives me the opportunity to make some money for my family."
Foxworthy, who has helped wounded warriors for years, thought teaming with Grasshopper would be a great way to help out this veteran. They found Trotter by searching the Military Warriors Support Foundation, and Grasshopper will continue to partner with them and give away a mower each year.
"How do you say thank you to people who put their lives on the line so we can live the life we live in this country?" Foxworthy asks.
In this case, they used a mower.