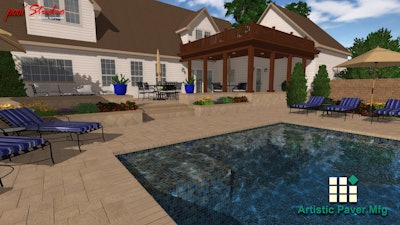 Structure Studios has added interlocking sand-set pavers from Artistic Pavers to the Pool Studio and VizTerra 3D Design Software library.
The latest 3-D design software update for Pool Studio and VizTerra includes 55 new choices from Artistic Pavers.
Because the pavers are pressurized with a working pressure of more than one million pounds during manufacturing, they are very dense and resist algae, mildew and salt erosion.
These pavers are available in the Pool Studio and VizTerra 3D design library, which includes high-quality photorealistic 3-D renderings.