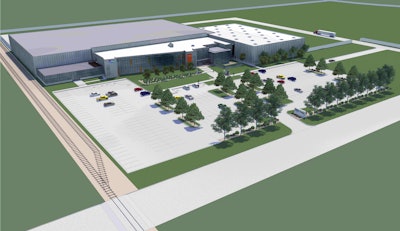 Bobcat is investing $35 million in expansion and renovations to its Bismarck location.
Bobcat broke ground today on a $20 million research-and-development facility at its site in the Northern Plains Commerce Centre, and construction is expected to be complete by the summer of 2014.
An additional 135 extra jobs have been added for the expansion, bringing the total workforce in Bismarck to 625.
The project includes expansion of an existing building as well as development of a new test track and indoor testing facility — all at the Northern Plains Commerce Centre in Bismarck. The expansion of the existing building will include a two-story office building and provide a total of 160,000 square feet of modern workspace. Additionally, a 35,000-square-foot indoor testing arena will be constructed next to a 22-acre outdoor testing and track area.
The contractor for the project is Comstock Construction of Wahpeton. When complete, the entire project — including the original building built in 2005 — will mark a $35 million investment by Bobcat in the Northern Plains Commerce Centre in Bismarck.