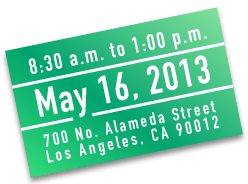 The Metropolitan Water District of Southern California will be hosting the Spring Green Expo Thursday at the Metropolitan headquarters building.
Students, businesses and public agencies will be featuring more than 65 exhibits, and the event will feature three one-hour seminars on landscape design, vegetable garden planning and irrigation.
The free event will begin with an opening ceremony at 8:30 a.m. with seminars beginning at 9:30 a.m.
Jeffrey Kightlinger, Metropolitan General Manager, will host the opening ceremony and Southern California students representing 17 colleges will display sustainability projects in an ECO Innovations Showcase.