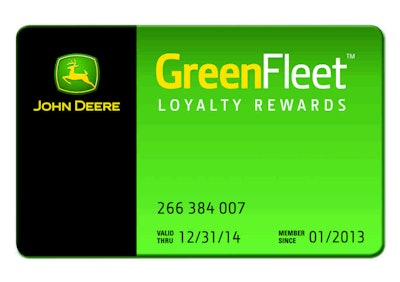 A major chunk of your cash flow goes toward equipment payments each month, so John Deere has created a way for you to be rewarded for spending that money.
Designed to reward loyal customers, John Deere's GreenFleet Loyalty Reward program is available for customers who purchase at least two qualified John Deere products. If customers qualify, they will be open to discounts, incentives, financing and promotions.
"But the benefits run deeper than just discounts," says Steve Wilhelmi, tactical marketing manager, John Deere Commercial Mowing. Reward members will have access to tips and trends on topics like equipment maintenance and more.
Customers who have purchased two or more machines are automatically enrolled into the program and will receive GreenFleet benefits for two years. However, to stay enrolled, those customers will need to purchase at least two machines every two years.
Discounts
Customers can get discounts on commercial mowers, UTVs, skid steers, compact tractors and commercial worksite products.
The discounts are scaled by how many units a customer purchases in a two-year period, and all GreenFleet members get an additional 10 percent discount off parts and workshop products.
John Deere Landscapes
Members who are involved with John Deere Landscapes will receive offers on landscape supplies like irrigation, lighting, nursery and other materials.
Financing
GreenFleet members will have access to preferred financing offers, including low-rate financing, leasing options, payment plans and equipment insurance.