The ravages of the Atlantic Ocean can be a thing of beauty – and a source of challenging erosion problems for coastal properties.
Enter Bobbie Burdick, an award-winning landscape architect and erosion-control specialist in Ellsworth, Maine, and the owner of Burdick & Associates Landscape Design.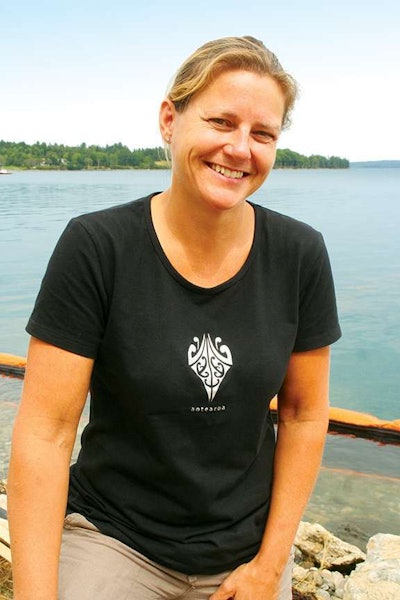 Burdick is an expert in shoreline stabilization, erosion and drainage – both in the marine and freshwater environment.
Recently, she was overseeing a project to stabilize and enhance a tricky bit of property that comprised a steep slope wedged between a village road and, down a steep slope, the ocean.
The property's new owners tore down the existing house and planned to rebuild.
For this type of project, Burdick typically uses boulder riprap staged with planting pockets, including native Rosa rugosa, bayberry and sweet fern to mimic a natural Maine shoreline. A Burdick "signature" is her use of granite blueberry barren boulders.
The steep grades on this project in particular warranted extra measures, however.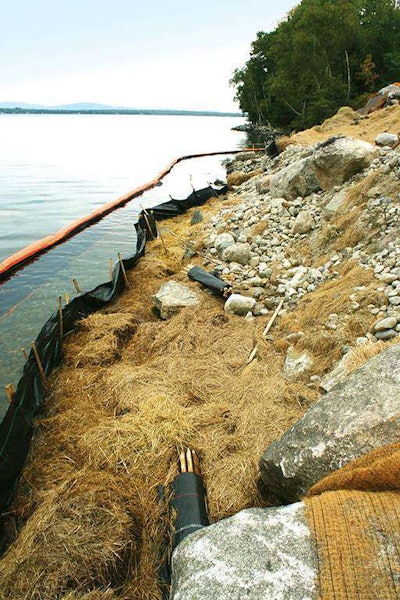 After digging up a bank covered with knotweed, shallow-rooted alders and gnarly trees, she layered the north end's undisturbed subsoil, from roadside to beach, with biodegradable filter fabric, topped by 3-inch crushed stone. Boulders of assorted size and shape were set in terraces from the beach up. The difficult terrain meant using an excavator to muscle in the boulders, rather than a preferable pulp truck.
A second layer of filter fabric between the tiers keeps 18 to 24 inches of loam from sifting through the boulders. Over everything is a coconut-fiber, erosion-control matting, lasting two or three years until the earth is stabilized before biodegrading. The matting is sliced to allow for plantings, which ultimately will interlock the framework and fulfill the aesthetic.
The south end was steeper. Burdick installed banks of Maccaferri Terramesh units, which come "almost like a flat Chinese takeout box," she says.
Using similar layering techniques, the units provide a container for stone and loam that's easily assembled in place, anchored by "tails" that are buried 9 feet into the bank.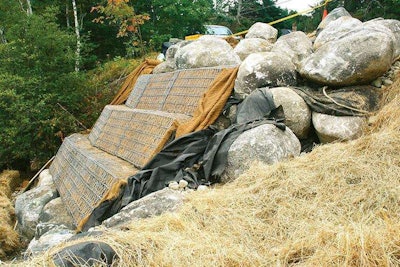 A boulder base seats each unit, which is staggered back 18 inches from the one below. Rosa rugosa is planted on vertical and horizontal surfaces, eventually creating a "green wall." At the top of the bank, spruces and birches will visually anchor the house.
Burdick calls this project "small but intense. There's a lot of staging and a lot of coordinating that goes along with this."
In this case, landscape came before house. But Burdick has also performed rescues. In one instance, homeowners built a terrace under their seaside house, without stabilizing the shore. Burdick and her crew pulled out the wreckage and then fixed the problem.
Erosion control is essential to longevity of any shoreside structure, she said. And much of Maine's shoreline is suffering.
"It hasn't become a priority for some homeowners, yet, to take care of the shore," she says. "We try to work and educate clients to plan for future generations so that their kids aren't stuck with having to do this work later down the road – but also so it doesn't get worse."
By Laurie Schreiber