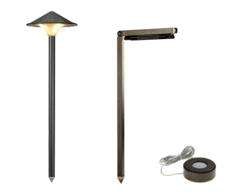 Dekor has introduced three new waterproof LED landscape lights.
The Ginny Light
The Ginny LED Landscape Light has a contemporary look and can be used for both pathway and façade lighting. It has a hinged joint allowing a full 180-degree of articulation.
When the light is positioned downward, the Ginny produces a focused, rectangular beam of light. However, when facing upward, the light can be used to illuminate trees, large shrubs or the façade of a house.
The Empress Light
The Empress Landscape Light can be used as a garden or path light. The top of the light is faceted and is designed to shed water easily. The light also features a transparent Lexan shield to keep bugs, dirt and water out of the light. Operators can also customize the light pattern by using three groups of four Cree LEDs that are placed at 120-degree angles.
The Puck Light
Puck Landscape Light features a mounted surface and is also waterproof. Besides lighting different vegetation in the landscape, the light can be moved to a 90-degree angle for better illumination.