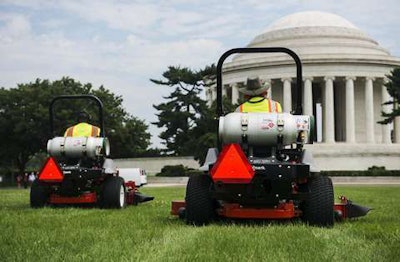 The National Mall and Memorial Parks (NAMA) is putting the environment first.
Through a donation from the Propane Education & Research Council (PERC), the organization was able to mow the lawn with alternative-fueled lawn mowers.
A total of six Exmark Lazer Z S-Series lawn mowers were donated to the organization to help reduce greenhouse gas emissions by 50 percent for each mower.
PERC and Greater Washington Region Clean Cities Coalition (GWRCCC) celebrated the use of the mowers as well as the park's adoption of two electric cars and charging stations. The four 72-inch and two 60-inch Lazer Z S-Series propane-fueled zero-turn riders will comprise one-third of the Mall's mower fleet and replace diesel-fueled mowers.
The donation amounted to approximately $70,000 in equipment.