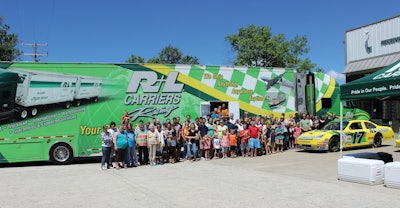 EasyPro Pond Products in Grant, Michigan, had the opportunity to host a special visitor.
R + L Carriers Racing brought their No. 17 Sprint Cup car and No. 2 Craftsman Series truck to the company for about 100 guests and employees to enjoy.
The group partook in a luncheon and a close-up visit with the NASCAR vehicles and hauler.
R + L Carriers transports the NASCAR hauler across the country making approximately 300 stops in a year at companies like EasyPro.
The hauler carries the car and truck, parts to build another racecar, tires, all of the tools and a golf cart along with a driver's meeting lounge area.