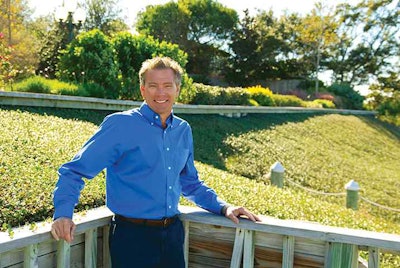 Rene West likes a challenge.
As president of Executive Landscaping, West may have put his business in what some may argue is the most demanding landscape in the country.
Located in Pensacola, Florida, West and Executive Landscaping have created a lasting reputation that spreads from the beaches of the Gulf Coast to the less-tropical inland.
Diving head first
After basically paying his way through college, West hit the ground running.
In 1984, he started Executive Landscaping and was referred to two different property companies in the area that both managed a total of about 600 houses and apartments. The move left Executive Landscaping in the growing maintenance market.
"It went crazy because they were giving me work faster than I could deal with it," West says. "We were doing maintenance just to try and make a dollar, but then I started seeing landscaping, and we were inheriting problems in maintenance caused by landscaping."
As quickly as the business started to boom, the company dove head first into landscaping services to avoid inheriting mistakes. "We started getting into landscaping really out of necessity because we would have to either redo what was there or get into new construction," West says. "We were like, 'Well, we can certainly do it better than what they did.'"
The business slowly grew, but it was in 1992 when Executive Landscaping got its first taste of big business.
The company bid on a commercial mall project in Tallahassee, Florida, which was about a $1 million job. "We probably had no business doing it, but we got it, and it was a big success," West says. It was at that point that their concentration shifted from maintenance to construction.
West put every penny the company made directly into the bank and used it to build the company. By 2000, Executive had grown into a $2.5 million company up until Hurricane Ivan hit in 2004.
After Ivan, the doors flew off, and the company was wide open. Between 2004 and 2006, the company had doubled and jumped to about $4.5 million with 70 percent coming from construction.
In 2007, West could tell something was off. "We were going to fall off a cliff because everywhere you could look, there was construction going on," West says, "and at some point, I'm like, 'Who is going to buy all of these houses?'" And sure enough, that was when the housing market collapsed, and construction all but died.
After tightening expenses and pushing more into maintenance, the business shrunk by about $1 million. But by controlling cost and being more selective in bidding, Executive Landscaping was able to bounce back, double and then quadruple profits.
Joining forces
In January 2011, another landscaping company in the area approached West about purchasing his company.
"It took us a whole year until January 2012 to put the thing together without anybody knowing," West says. "He did about $3 million, and we did about $3.5 million. Now all of a sudden you take two companies, put them together and blend them into one culture. One was heavy maintenance and one was heavy install. It has come together so well it's almost scary."
The company has grown by 15 percent since the two businesses merged. The company now operates 58 vehicles with 70 total trailers. "Right now, [my lot] has 4 acres, and everybody has to be in assigned parking because we're running out of room," West says.
Heart of the Landscape

At the time of the merger, West says he was very close to putting the company on cruise control and pursing other interests, but he knew if he was going to go out, he wanted to go out on top.
"I don't want to just be a landscaper," West says. "I want to be an innovator."
West is so passionate about landscaping that he is much more selective on bidding construction projects, refusing installation projects that are so poorly designed that they wouldn't work properly. His concentration now is on design/build where he can control the outcome.
The company has continued to work by this motto and has added it to its mission statement. "We're not going to do stuff just for the sake of making a buck," West says. "If it's not sustainable or not the right thing to do, we're just going to walk from it."
It's all about engaging people to become part of the landscaping, he says. "We're bringing the inside out. What we want to do for people is create outdoor living spaces that are relatively low maintenance, can be used for everyday life and are aesthetically pleasing.
"I don't want to sell you a plan because I'll make a lot of profit on it. I want to sell you a plan because it gives you something more usable in your landscape."
Want to be the next Landscaper of the Year? Apply for our Landscaper of the Year program, and you could be featured in the magazine and win an all-expense-paid cruise to the Bahamas.