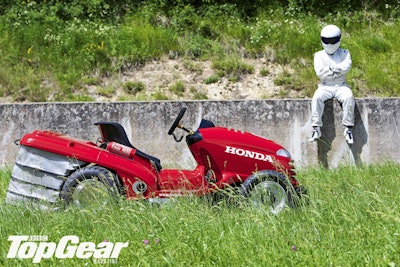 Is cutting the lawn just taking too long?
Well, Honda and TopGear Magazine have created a nice surprise for anyone in the landscaping industry.
As part of a mission to create extreme lawn-care equipment, Top Gear and Honda have come together to create a 130mph mowing machine.
Contrived from the Honda HF2620 ride-on, the MeanMower was rebuilt by Honda's British Touring Car experts at Team Dynamics.
After being dismantled, the mower started taking its new form when a spaceframe chassis, a 1000cc Honda VTR Firestorm motorbike engine, bespoke suspension and tires from a racing ATV were all added.
All of that being said, the MeanMower can produce 109 break horsepower and 71 foot pounds, which makes it theoretically capable of going from zero to 60mph in less than four seconds and going a top speed of 130 mph – all while still being able to mow grass.
At TopGear Magazine's annual Speed Week event, the mower produced 100.02 mph on track.
"With the TopGear lawn to mow and a Stig on the staff, it seemed perfectly normal to work with Honda to create this thing," says BBC TopGear Magazine's Piers Ward. "Though I have to say, having driven it, I've never been so terrified. It accelerates like a rocket and, like any mower, there aren't any seatbelts."