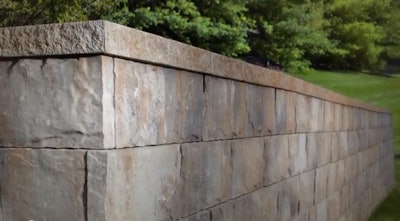 Belgard Hardscapes is focusing on building retaining walls bigger and better.
The company has introduced the Mega-Tandem Mass Retaining Wall (MRW) block.
The wall features a versatile wall block system accompanied by a natural look of stone.
The size and mechanical structure allow for building reinforced walls up to 15 feet and gravity walls up to 10 feet without reinforcing.
Featuring a patent-pending positive mechanical connection, the Mega Tandem has reinforced polypropylene connecting members that create structural integrity in curved or straight retaining and freestanding walls.
The wall is available in a 12 x 24 panel weighing 65 pounds and the system has a running bond configuration so no patterns are required.
With 8500-psi compressive strength concrete, the wall can withstand a variety of temperatures, including harsh freeze-thaw cycles.
It comes in three-color blends and 12 different facial textures with the look of natural chiseled stone.