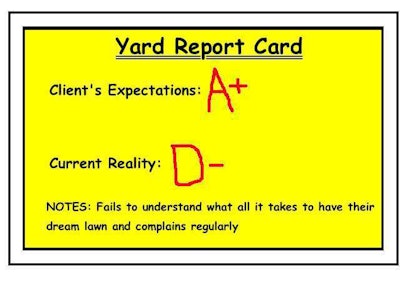 It's the middle of the summer, and you have fielded the fifth call this week from the same customer complaining about seemingly minor issues most of which are outside of your control. You ask yourself, "Is this customer worth it?" "Can I ever make him/her happy?" "Where did this go wrong?"
As landscape industry professionals, we will always have to manage difficult customers and challenging personalities, and there is no way around it. However, there is a way we can increase our chance of success with difficult clients.
The key is to manage your customers' expectations. We have a tendency to overpromise when selling a new maintenance account; it's easy to tell clients their property is going to look great under your care and everything else they want to hear to close the deal. I have made this mistake many times by not properly setting expectations before services begin, and this usually landed me in an impossible situation down the road by ultimately losing the business.
Whenever beginning work on a new property, I would ask the client, "What grade would you assign your property today?" Most would reply with a grade of C, D or F. Depending on how poor the condition of the property was, I would convey to the property manager/owner that we would need a year to improve the property's grade up one level.
So, for example, to take the property from a C to an A would require a two-year commitment with a full service package that included the necessary budgeting for enhancements to be executed throughout the course of that agreement.
Communicating in this manner also helped deal with push-back on our pricing. A potential client might say,"This is more than I am paying." So, I reply, "If it's OK for your property to be in D+ or C- shape, then, stay with your current vendor; however, if you want to get to an A, we will need 3 years with this program implemented."
If a potential client wanted more expeditious results, without the investment of a huge immediate overhaul, then, this served as a big red flag that we were setting ourselves up for failure. This sign of things to come helped us avoid much aggravation and disappointment by passing on the client that illustrated he/she would most likely be unreasonable to work with moving forward.
When proper expectations are set in the beginning stages of working with a new client, this serves as a baseline of reference throughout the course of the relationship. For instance, a typical issue, a client would complain about poor turf quality in the middle of the summer after he/she has hired our firm earlier that season.
Because we had set expectations months earlier that the turf rehabilitation process was to take a multi-year commitment, we were able to point to that discussion for amiable resolution to the issue. If we hadn't managed expectations early on, we would have had a dissatisfied client looking for a way to cancel the contract because the default expectation was for a perfect lawn three months after hiring our organization.
Despite the proper effort being applied at the beginning of the relationship, there will still be insatiable customers. It's been my experience that 80 percent of the attention demanded by our clientele came from 20 percent of our customers.
To mitigate this reality, I began to focus on which clients were due the additional attention from a profitability standpoint. Ultimately, we raised rates on the consistently needy customers with unreasonable requests and issues. After all, an unbalanced attention is unfair to the 80 percent who are reasonable to work with, and it's my feeling that life is too short to suffer customers that are never satisfied.
After improving our procedure of managing expectations, holding our clientele accountable to profitability standards and cutting loose the clientele who were never satisfied despite our proactive approach, we were able to successfully expand profitability and reduce our customer churn rate.
Ultimately, the proactive approach of managing customer expectations at the point of new sale made our company healthier, more profitable and a more enjoyable work environment.
EDITOR'S NOTE: This article was written by Bryan Clayton, landscape industry exited entrepreneur and co-founder of GreenPal