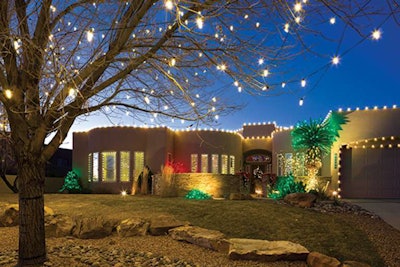 As the busy season winds down and snow rapidly replaces the once-cut green grass, landscapers sometimes find themselves twiddling their thumbs looking for the next project.
One way landscapers have found to keep busy through the cold months is the addition of selling holiday lighting to not only stay active, but to also add a few extra dollars on the side.
"We definitely see more and more landscapers coming to us every year," says Paul Sessel, owner of Stilwell, Kansas-based Creative Displays, a company that imports and sells Christmas lighting on a wholesale basis. "Every year, we pick up anywhere from 10 to a couple dozen of new landscapers that are getting into the business."
The holiday-lighting momentum starts around September as companies think about supplies for the season, Sessel says. Most do inventory-on-demand, but others may tap into pre-ordering through discounts in January and February.
As more companies enter the market of holiday lighting, they are finding they not only have to become more creative with lighting designs, but more creative in marketing those lighting designs.
Marketing the target

As landscape companies enter niche services, the holiday lighting market continues to grow, says Shawn George, president and owner of Elite Lighting Designs out of San Antonio, Texas.
George's company has had to develop new ways of marketing since it entered the holiday lighting market years ago.
"We market it a couple of ways," George says. "We do our home shows and trade shows throughout the year, and we'll do a mailer through our local market that goes out in the early fall."
At each show, George says his company brings detailed postcards, directs each potential client to its website, shows the latest-and-greatest holiday lighting materials and showcases their portfolio with a variety of completed projects.
By targeting the market as soon as September and October, George says his company can start estimating and getting installation calendars set up with actual installation starting as early as Nov. 1.
The key to installing that early, George says, is the ability to run every string of lights neatly and set up timers accordingly so a client can flip the switch with ease at the appropriate time.
"First, we're full-time, year-round outdoor lighting specialists, so our guys know lighting as well as electrical," George says. "So secondly, they are licensed and insured. Thirdly, I use my own crews. And lastly, being a reputable company, like a landscaper or irrigator, gives you credibility that this company will come and take the lights down and put them back up."
For other companies that are branching out into the holiday lighting business like Epic Landscape Productions out of the Kansas City area, word of mouth can benefit the services, says Rachel Olson, seasonal color production manager.
"This coming year, as far as pushing the market, we're trying to get just lighting-only customers," Olson says. "Direct mail seems to be an inexpensive way of marketing, and it seems you can market the segment of the population that you want to."
When the company begins to market with the mailings, Olson says it will start with the higher-end market and trickle down depending on the mailings' success.
The biggest challenge Olson and her company have seen is learning and understanding the market where they are trying to sell.
"There are landscapers who use the more disposable varieties of lights, so if you come in with a higher-quality light, you can price yourself out of the market," Olson says. "We're trying to change the marketplace right now, and it's a challenge pricing stuff."
Beating the budget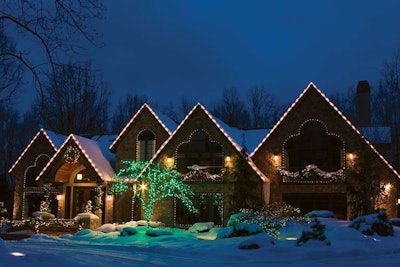 Homeowners may be pinching pennies. This can be particularly hard through the holiday season as holiday lighting can be seen as an extra expense.
George says it's imperative his company be able to design and install a lighting system based on any price point.
"If a customer can't afford everything, they can do a less-expensive version of it," George says. "We take credit cards, so we do allow you to do some financing with us. We can also do things in phases, even with Christmas lighting. Maybe do the first year small and then they can do more in future years. You can always add on."
Offering a discount to clients can also help bring in more holiday lighting business, says Garret Dercher, general manager with Summit Lawn & Landscape in Grandview, Missouri.
"We do a 10-percent discount before Oct. 31, so we can get people up before November," Dercher says. "Most of our current customers are up a week before Thanksgiving."
To win a budget or a bid, Olson says the company will throw in holiday lighting as an added bonus or a free gift for maintenance customers or even new customers.
"We work with people's budgets, and say 'Let's talk about what you really want,'" Olson says.
Additionally, being able to offer a variety of products can be beneficial to the marketing campaign, George says.
"We have an extensive supply of materials that we can rent or sell clients and that goes from everything to pre-lit garlands and wreathes to bows and holiday signs. That makes a big difference," George says.