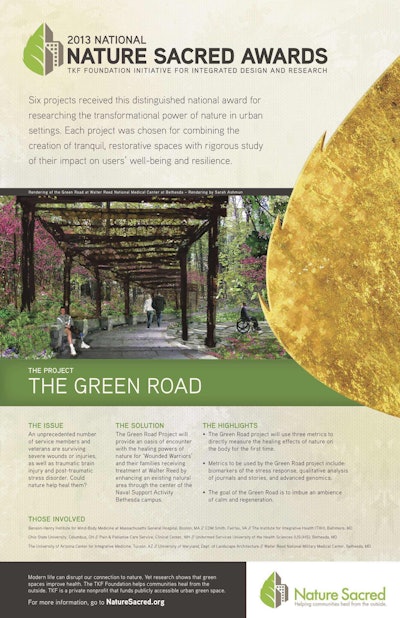 The TKF Foundation has recently awarded $4.5 million in awards for six landscape design and research projects.
According to The Dirt from The American Society of Landscape Architects, the foundation is focusing on improving human health and well being by adding urban greenery.
"According to the TKF Foundation, more than 80 percent of the U.S. population and 50 percent of the global population now live in urban areas," the article states. "To ensure people can live in dense environments packed with people, parks and open space are critical. Without those, people flee to the suburbs to get away and have access to more nature."
National Open Spaces, Sacred Places is a design and research initiative to help with this goal.
The landscape design and research projects will involve researchers in the fields of neurosciences, genomics, immunology, psychology and more.
The six projects have specific requirements that must be implemented into the landscaping including, a portal defined by an archway, gate, stand of trees, pergola or other marker, a path and design element such as plantings, fencing or trees.
Each project will also include a bench where visitors can sit and write in an attached journal.
The six projects:
The Green Road Project at Naval Support Activity Bethesda, Walter Reed National Military Medical Center: "Built on a woodland section of the campus, it will surround 'Wounded Warriors' and their families with the healing powers of nature in an oasis of respite—and combine a healing, patient-centered approach with rigorous data on what works to improve the health of veterans."
A Green Space a Day: "Following up on findings from research conducted in Japan and the Netherlands that links being in nature with healthy immune response, A Greenspace a Day research will help determine what it is about nature that improves immune functioning and reduces stress for urban dwellers."
Landscapes of Resilience: This project will examine how "new open space, sacred places can contribute to community resilience while supporting recovery from an array of major crises — human, natural, technological and even political."
Measuring What Works for Healthy Green Spaces: "While a body of evidence has shown that nature improves health outcomes and cognitive functioning, the missing link is still why these effects occur. Measuring What Works for Healthy Green Spaces aims to determine what it is about nature that has such tremendous effects on our brains and our health and create guidelines for the future design of natural spaces."
Naval Cemetery Landscape in Brookyln: "As one node of the Brooklyn Greenway Initiative – a 14-mile commuting route for non-motorized transportation – the Naval Cemetery Landscape project will seek to provide restorative relief to individuals from the urban environment. Sited atop an old cemetery at the former Brooklyn Navy Yard, this new meadow will revitalize the native plant and pollinator populations in the region and attract other forms of life that depend on thriving numbers of these native inhabitants."
A Nature Place, Portland, Oregon: "A preterm baby — a child born before 37 weeks of pregnancy — is at heightened risk of physical and developmental problems. The earlier the birth, the greater the risk. And a mother's stress is a significant contributor to preterm delivery. Realizing this, Legacy Health is combining its traditional medical expertise with the healing power of open green spaces to create a four-season garden at the Family Birth Center and Cardiovascular Care Unit at its Legacy Emanuel Medical Center in Portland, Oregon. Patients and their families will be able to walk through and rest in the garden, adding to their peace of mind and rebuilding their strength. There will even be special equipment to make sure less-mobile patients — such as pregnant women on bed rest and patients with reduced mobility — can spend time outside."