When Eric Bruss went to college, his goal was to get as far away from the landscaping business as possible.
Growing up surrounded by the industry, he wanted a break. "My family owned and ran a garden center," Bruss says. "It was seven days a week. When I wasn't at school, I was working there."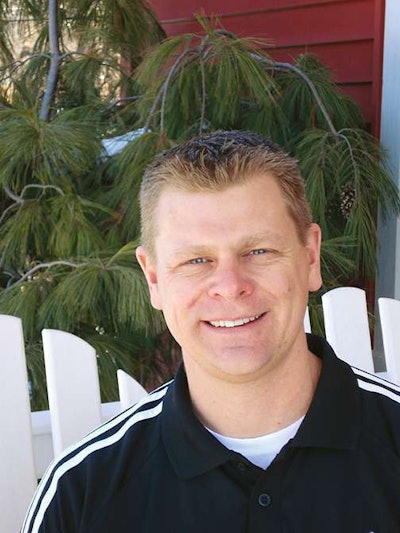 Bruss, now owner of Wheaton, Illinois-based Bruss Landscaping, double majored in art and photography when he went to Colorado State University in Fort Collins, Colorado. However, after about a year following this course of study, he wasn't able to stay focused. Bruss wasn't doing so well in college, but in high school, he had been always been an excellent student, so he decided to make a change.
"The first day of classes my sophomore year [in college], I had a change of heart," says Bruss, who now has the Association of Professional Landscape Designers (APLD) designation. "I walked into the Department of Horticulture and talked to the dean about coming into the program."
The dean asked Bruss to take the program's exit exam to test his knowledge of the industry. "I didn't realize how much of an education I had from working in the family business," Bruss notes. "I basically aced my exam. I dropped my entire schedule and got enrolled in the horticulture/landscape track, and it was the right move."
The CSU program was a five-year degree, but Bruss graduated in four and did exceptionally well. He had started a business in Fort Collins, Colorado, with another horticulture student and operated it during the summers. The business took off and was growing so rapidly that Bruss considered staying in Colorado.
However, after Bruss graduated in 1993, he ultimately returned to Illinois to work for Bruss Landscaping, starting at the bottom of the business. He learned each function from cleaning the trucks and running the nursery to buying materials and sales and design.
Knowing all aspects of the business would become critical as Bruss prepared to take over the family business as a third-generation owner. In 1996, his father, Bob Bruss, became ill; he was diagnosed with hydrocephalus. In April that year, Bob began one of eight brain surgeries and was no longer able to continue day-to-day business operations.
Bruss bought out his parents, and at 26 years old, he owned the company and was running the business with Arnie Kroeze as his vice president. "My dad hired him," Bruss says. "Now, almost 30 years later, he is still my right-hand man."
Making changes, taking pride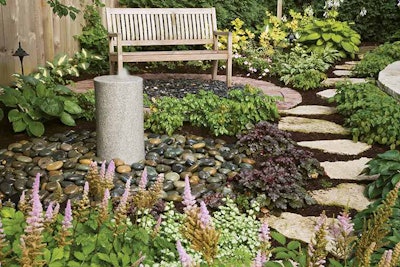 In its 61st year in business, Bruss Landscaping's rich history and commitment to both employees and customers has made the landscape contractor a success. "I let the name speak for itself," Bruss says. He admits this company may not be the least expensive, but adds, "We have creative designs. I know I will not only have the best craftsmanship but also have the best plant material."
Bruss goes to nurseries across the Midwest to hand-select materials each year and grows some plants of his own. What really convinces customers to use Bruss Landscaping is when they talk to friends and neighbors, he says. "We have a written warranty for our work," he says. "If it fails, we fix it. There is so much shoddy work. It might look great at first, but the question is, 'How does it look later?'"
Bruss gives the example of a stoop his company built but then failed five years later because geotextile hadn't been used. Although it wasn't under warranty, Bruss says the only "right thing to do" was to fix the problem. "This is the best marketing you can do," he says. "That homeowner is going to go to a cocktail party and talk about what happened and about how it was remedied."
Customer testimonials, which Bruss has posted on the company website, are proof of this. Customers Larry and JoAnne Strope of Wheaton, Illinois, say Bruss Landscaping not only did a beautiful job, but that "each member of the crew handled his work as if he owned the business."
Bruss says he was "raised to do things right and take care of people. That's the way I have always done things."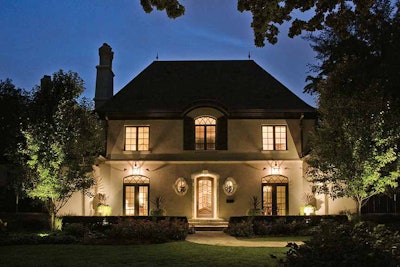 He translates this philosophy about his customers and work to how he regards his employees – a tenet Bruss says he learned from John Shaw Sr., his cousin's father-in-law.
"He's the smartest guy I ever met," Bruss says. "He told me, 'You are only as successful and as smart as the people you surround yourself with. When you get them, pay them and treat them well. Anyone can learn anything if they have the heart, dedication and brains.'"
Bruss takes this to heart and credits the success of his business to these beliefs. He says his company was blessed with the boom of the industry and housing market. Bruss Landscaping peaked in 2008 with $4 million in revenue at the height of the housing boom just prior to the recession. This success has continued, with the landscaper generating about $3 million in sales now.
Instead of just treading water or banking on current success, Bruss says his company continually tries to grow and look to the future. "Our goal is to have three new products or services every single year and hope that one or two of them work and fall into demand."
Bruss gives the example of his company converting to all LED lighting. Although it wasn't the norm, he says he decided this was where the trend was heading. While the cost is about $50 more per fixture, Bruss says he and his crew
explain the benefits to the customers and how the overall cost will be less.
Achieving work-life balance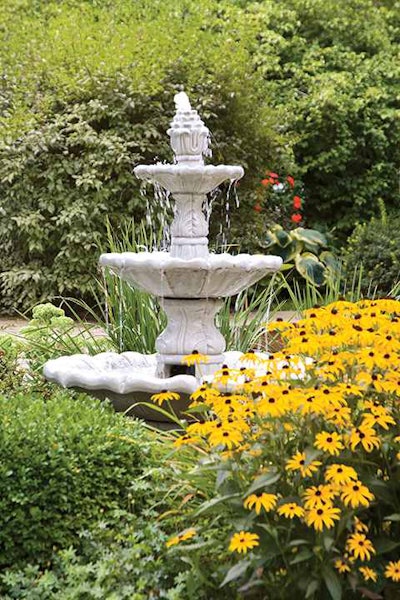 Success goes beyond revenue generation and innovation, however. "I am happy at $3 to $4 million a year in revenue," Bruss says. "I have been able to be involved as my children grow up. I've rarely missed one of my kids' sporting events. I work Monday through Thursday.
"Most competitors are doing other services such as lawn mowing, snowplowing and commercial maintenance. I don't touch those things. For me, it's a quality-of-life thing."
Bruss says he sees "no end point" with his involvement with the business and hopes to pass on to his children someday to make it a fourth-generation family business. In fact, Bruss says he makes a point of talking about work at the dinner table so his kids have a sense of what the business is all about.
"I feel it's my God-given responsibility to pass on this business to one of my daughters," Bruss says. My grandpa and grandma started this business. I never had the chance to meet my grandfather, but I would have nothing without them.
"I am successful and happy," Bruss says. "Business can be like the stock market with two things that drive you – fear and greed – or you can just have passion for what you do. I have that passion, and I take pride in what I do."