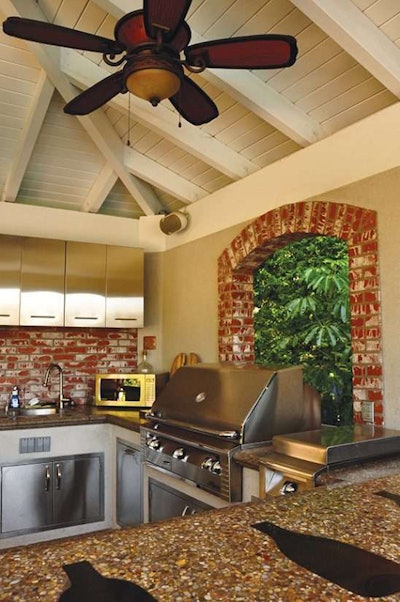 A dash of concrete mixed with a pinch of nature and grilled well on open flames can cook up an inviting outdoor kitchen if all of the elements are combined correctly.
The market for outdoor living areas continues to grow with the new construction resurgence, so it's important to make sure you have the right set of skills needed for these projects.
"Outdoor kitchens have exploded in popularity because they provide an enjoyable space to cook and share food in the beauty of a garden environment," says J. Gieo Peonsoneault, host and producer for The New American Landscape Channel, an online resource for the green industry.
While you can build as large or small as your client's budget allows, there are four elements to consider when installing the perfect outdoor kitchen.
Space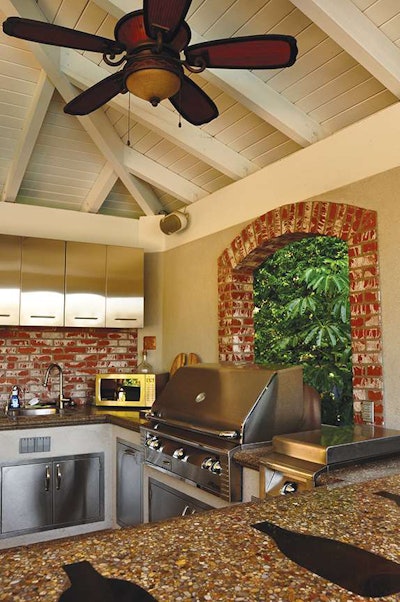 After you and your client decide where the outdoor kitchen will be constructed, you need to think about what size, shape and layout will work best in the space.
The living area should be a natural extension of the house, not an obstruction. You'll also want to arrange the kitchen to give the clients a good view from inside. So, don't block the windows or make the barbecue counter the focal point.
Another element to consider is where the wind blows from most often "because we don't want smoke blowing onto our patio areas," says Scott Cohen – garden artisan, public speaker, book author (including the Outdoor Kitchen Design Workbook and The Big Book of BBQ Plans) and owner of The Green Scene in Chatsworth, California.
Once angled and placed, you'll need to decide how to best use the space to create an inviting eatery.
"Just like indoor cooking areas, the outdoor space should be designed in a way that provides good workspace and allows interaction with guests," Peonsoneault says. "Outdoor cooking is something of a spectator sport, and people like to gather around the action."
Styles that can cater to guests include L- and U-shaped layouts with overhanging counters that face the main patio space. "In this style, guests can sit at the counter and take part in food preparation or simply enjoy interacting with the cook," Cohen says.
And don't feel limited if you're working in a tight area, like the project featured on our cover. Anthony's Architectural Landscape Construction in Metairie, Louisiana, extended this house's garage to create a breathtaking, functional outdoor kitchen. "We wanted to be creative and give the clients the most bang for their buck," says owner Ted Anthony.
Materials
The look of your work – from the countertop to floor – can become your calling card if done correctly. And a large part of this success lies with your material choice.
"Poured concrete or slab granite are among the best choices for counters because of the look and ability to weather outdoor environments," Peonsoneault says. "Tile should be avoided because the grout joints collect water and often crack in freeze/thaw climates."
If you include a seating wall, the capping should be materials such as brick, formed concrete or stone that can link walls in the architecture of the house, Peonsoneault says.
For the paving, stamped concrete or dry laid unit pavers have become some of the most popular materials to use.
Known for his unique use of materials, including melted wine bottles laid in countertops, Cohen builds everything out of cinder block and reinforces it with steel. He then grounds them solid with concrete. "These are pretty strong structures, and they can handle just about anything outdoors," he says.
In one kitchen project featured on Landscaping Network's website, Cohen describes a counter he constructed out of cast concrete that has been hand-seeded with beer bottle glass that's all amber in color. He grounds the materials and polishes them to a smooth finish and builds it over an entire masonry block unit construction.
Appliances
Backyard kitchens continue to push the limits of what features and amenities can be moved outside. Gone are the days of going back and forth between the indoor and outdoor eating areas.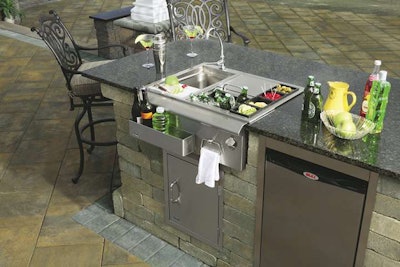 "Not long ago, just having a quality, built-in grill was enough," Peonsoneault says. "But recently, the manufacturers of outdoor appliances have produced additional elements such as sinks, stovetops, refrigerators and stainless steel storage drawers."
To create a seamless transition from the house to the outdoor space, make sure to pick the right appliances.
Start by talking with your clients to figure out their cooking needs. If they are more focused on the cooking experience, a grill and pizza oven might fit the bill. For those wanting a full-fledged kitchen, you can install everything they have indoors – such as a sink, small refrigerator, stove and ice machine.
No matter which appliances you bring outdoors, you'll need to map out where they will go and match those with electrical outlets.
"Since electrical outlets generally go inside masonry walls, the planning and installation of the infrastructure must be done in the early stages of construction," Peonsoneault says.
He suggests using PVC conduits to make a path for the wiring so it can be installed as outlet boxes are attached during the final stage of construction.
Covering
To add further distinction to the space, talk with your clients about an overhead structure.
If they want to keep an airy feel to the kitchen area, a pergola would provide an open roof that could be further personalized with lighting. In contrast, a patio pavilion has a closed roof but still has open sides. "Both can convert an open patio into a sheltered outdoor room," says Charles H. Gamarekian, chairman/CEO, Cambridge Pavers.
Whether they desire protection from the elements with a roof structure or simply shade from a trellis with climbing vines, covering the outdoor kitchen can extend its usability.
"An overhead structure will give more definition to the space and create a room-like feeling for the outdoor kitchen," Peonsoneault says.