A Pennsylvania man has died after his riding lawnmower rolled over on a jobsite.
The man, a commercial landscaping employee, was cutting grass on a private property when the accident happened, according to wfmj.
The lawnmower rolled over against a fence on a hillside, ultimately pinning the man down.
A company should take all of the property safety measures in protecting employees and equipment on a jobsite. Equipment should be equipped with a ROPS, or roll over protection structure, to help protect the operator.
Here is one article that gives a few tips on how to mow on steep slopes.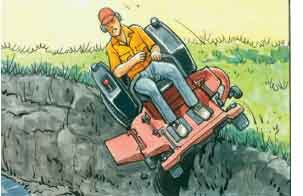 Safe slope operation
If you cannot back up the slope or if you feel uneasy on it, do not mow it with a ride-on machine.

Mow up and down slopes, not across.

Watch for holes, ruts, bumps, rocks or other hidden objects. Uneven terrain could overturn the machine.

Choose a low ground speed so you will not have to stop or shift while on a slope.

Do not mow on wet or damp grass. Tires may lose traction.

Always keep the machine in gear when going down slopes. Do not shift to neutral and coast downhill.

Avoid starting, stopping or turning on a slope.

Keep all movement on slopes slow and gradual.

Use extra care while operating the machine with grass catchers or other attachments; they can affect the stability of the machine. Do not use them on steep slopes.

Do not try to stabilize the machine by putting your foot on the ground.

Do not mow near drop-offs, ditches or embankments.