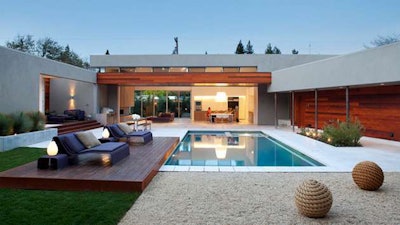 Today's home buyers seek new modern homes with a backyard oasis that fits in with the contemporary design of the dwelling. One of the most important things that landscaping contractors should remember when planning a hardscape is that it includes fixed objects within a landscape that a homeowner can't easily move. As you add interest to a modern home's landscape, keep the following hardscaping tips in mind.
Consider drainage
One of the worst things that can happen in regards to hardscaping new modern homes is putting in a lot of effort to make a hardscape look perfect to just have the design or materials fail a couple of years later because of poor drainage.
As you plan a hardscape, think about how an element will affect drainage on the property. In addition to redirecting water away from the home's foundation, consider installing catchment devices that are environmentally friendly and divert water to an aquifer. To avoid pooled water and flooded areas, discuss controlled irrigation with your client. This type of irrigation prevents over-watering, as well as lowers operating costs.
Sketch the yard
Just as new home builders work from a blueprint, landscape architects should sketch the home and yard before installing a hardscape. Allow the geometry of the home to guide the overall design of the landscape and garden.
As you sketch, keep in mind that a hardscape should add structure to the landscape in a way that is appealing regardless of weather. A hardscape should be just as beautiful in the winter as it is during the spring and summer.
Develop a focal point
Think of hardscaping as a frame that showcases an artistic focal point. The eye should naturally travel to one or two focal points in a landscape. Traditional focal points use to include patio furniture. Professional landscape designers are getting more creative and using natural elements such as a water feature or a magnificent old bonsai tree. To draw the eye to a focal point, repeat the use of certain plants throughout a landscape.
Don't forget softscapes
A softscape — greenery — is a hardscape's ultimate complement. They soften the hard lines of the design and give it warmth. Give the greenery added dimension by including colorful and fragrant varieties of plants, low-growth trees and slow-growth shrubs. Select water-wise plants that maintain their foliage throughout the year, as well as those that attract birds and butterflies. You can also include water in a softscape in the form of a waterfall, pond or manmade stream to add a sense of calm as well as sound and reflection to a hardscape.
Use materials that complement the new modern home
When hardscaping new modern homes, use modern materials like granite or concrete. Other types of contemporary materials include rocks, wood, metal and crushed stone. Add variety and texture by using two different materials that creatively coordinate with each other visually. The materials should complement the interior and exterior of the home and allow the hardscape elements to carry from the front yard to the backyard.
As you work on a hardscape, keep in mind this area will most likely serve as a homeowner's outdoor living area. While the clean lines and geometric shapes of modern hardscapes require less detailing than other styles of homes, the spaces should add visual interest and be able to adapt to a homeowner's changing needs.
EDITOR'S NOTE: H. Hudson Homes are new modern home builders in Portland, Oregon, who focus on cutting-edge design and sustainability. When it comes to purchasing a new home, buyers can rely on H. Hudson Home's wealth of expertise in construction and contemporary building practices.