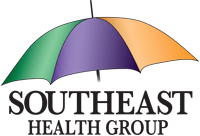 With the help of volunteers, a landscaping team and a state garden show, the Southeast Health Group in La Junta, Colorado opened a meditation garden.
With funding from the Colorado Garden Show Inc., the meditation garden was put together by the SHG staff and Vanhook's Landscaping, according to La Junta Tribune Democrat.
Youth volunteers from a local church constructed raised garden beds for the meditation garden.
CEO of Southeast Health Group, Becky Otteman, told the Democrat the garden will be used to provide vegetables for the youth program and walking meditation paths for skills training.
Surrounded by trees, the meditation garden has a spiral path in the middle surrounded by natural rocks and an underground, recirculating pump to create a small creek. Perennials were also planted near the raised gardens.