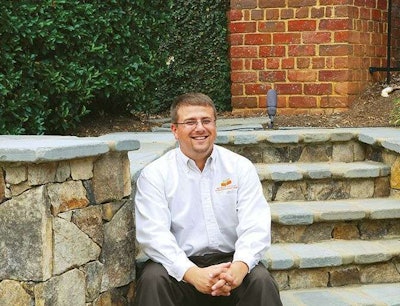 Grit. It's not a word used often, and when it is, it probably conjures up images of John Wayne and cowboy movies. But it perfectly encapsulates Darin Brockelbank's entrepreneur spirit.
He's not a cowboy or a fictitious hero, rather a hardworking business owner who built a multimillion-dollar business by his early 20s, only to lose everything when the economy took a turn in 2008. When bill collectors came knocking, Brockelbank and his wife, seven months pregnant at the time, briefly considered folding.
"We talked about filing for bankruptcy, but we knew we couldn't stay here and look people in the eye if we did," Brockelbank says. "This was our career, and with children in our lives, it didn't seem like we had any other option but to sacrifice, work hard and succeed."
And that's what they did. Together, Darin and Heather chose to travel the more difficult path, keeping an eye on the future and the doors of their company, Metro Greenscape, open. The couple sold their house, their truck and the company's equipment, laid off 30 employees and moved in with Brockelbank's parents to pay bills and save money.
In Charlotte, North Carolina, where the company is based, the decline in the construction and landscape industry in 2008 was rapid, especially for Brockelbank, who worked on many high-end projects, with area builders and remodelers. "When they stopped paying their bills, we ran out of money with little lien rights," he says.
The first step to turning the business around, Brockelbank says, was accepting the situation and the fact that it would take years to rebuild the business.
"The day I stopped fighting it was the day my mind opened up to see other opportunities in the market place that existed as a result of what was going on," he says. "I invested in a lot of real estate and made a lot of money as a result of this. If we were not in a recession, those opportunities wouldn't have been there."
Perseverance was key to Brokelbank's success, but so was his ability to let go of the past, envision a new future and remodel his business.
The early years
At age 14 when he started his first business, Darin's Lawn Care, there was little competition in the Charlotte suburbs, Brockelbank says, providing a hardworking kid with many opportunities. His family had just moved to the area from Massachusetts, and Brockelbank, the oldest of five children and the son of a working-class family, understood if he wanted any extras, he would have to work for them.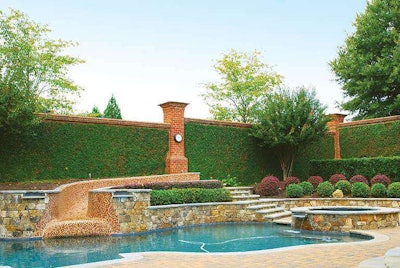 By the time Brockelbank was 18, Darin's Lawn Care serviced 150 accounts and employed six people. Brockelbank managed all of this and still logged 30 hours a week as a cashier and bagger at the local Winn Dixie, where he often passed his business card out to shoppers. "It was a hub for my customer base," he says.
When he was 17, Brockelbank met his future wife, Heather, at church. After graduation, she went away to school at Winthrop University, and he attended Central Piedmont College on a business scholarship after selling his landscape business and signing a no-compete clause.
"I was so bored in school," he says. "All I could think about was how much money I was losing sitting there all day," he says.
Being away from Heather also took a toll. After three months, Brockelbank dropped out of school to start another landscape business in the Charlotte area. "I respect a college education, but it can narrow your mind in our business. You have to be good at a lot of different things in this business." He and Heather married soon after and bought their first house.
"You should treat customers like you are going to work for them long term."
Carving out a niche was easy. The clientele in Charlotte had money to spend, and lots of it, and there was little competition in the design/build arena of landscape. "Back then, I was a pioneer for even using the words 'outdoor living,'" he says. "At the time, I barely even had peach fuzz on my face, but they had to hire someone or find someone outside of the area."
Business was booming. He worked for many of the area's professional athletes on extravagant projects with big price tags where he learned his trade on the job. "Prices were at a premium. I would take the profit and fix my mistakes," he says. He joined local trade associations, hired talented subcontractors who could teach him their trades and subscribed to a flurry of trade publications.
His biggest mistake, he says, was giving too much control to a newly hired operations manager who had just moved to the area from New Jersey before he had proven himself. The manager left the company after just six months, taking half of Brockelbank's employees with him. Today, Brockelbank values promoting from within and hiring local talent.
Remodeling the business
To survive the economic crash in 2008, Brockelbank changed his company's business plan to include maintenance, as well as design/build projects. He began marketing the business heavily, something he never had to do, working with editors of local newspapers and magazines to pitch stories to get his name and ideas into the mainstream media.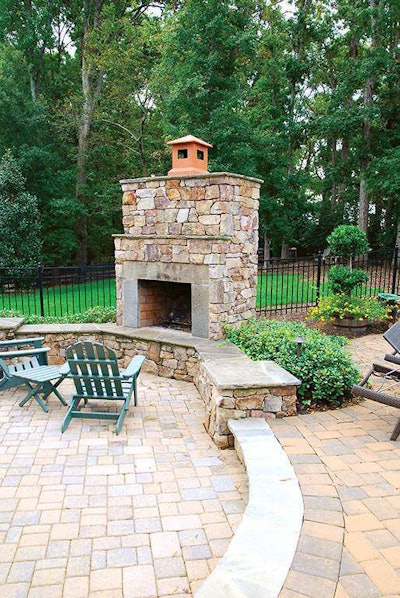 He also purchased advertising and implemented social media strategies. Brockelbank manages business development and sales, while Heather oversees the accounting and public relations of the business as they balance life with their three small children.
To continue to grow their business, Brockelbank also invested in the help of some well-known industry consultants such as Marty Grunder and Tony Bass. "I figured out where I wanted to go and did the things that made them successful. I learned the trends and from their mistakes." Brockelbank even reads psychology books to learn how to better serve his customers.
"You should treat customers like you are going to work for them long term," he says.
The bulk of Metro Greenscape's work remains high-end design/build, with about half of the projects costing more than $100,000. Customers choose Metro Greenscape because of the quality of work and because it's a one-stop shop, allowing projects to be completed quickly and without customers having to deal with several different companies.
"We have created grottos, pools with swim-up bars, pavilions and ponds you can swim in. If you can imagine it, we have done it," he says.
However, offering so many services can sometimes make it a challenge to hire appropriate managers, he says, since most employees excel only in a few areas, and the company's work load changes from month to month. But Brockelbank has never shied away from a challenge.
"Today, we are a strong, two-headed monster with revenues of around $4.5 million," he says. "Our sacrifices and strategic thinking have paid off big time.