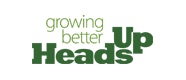 Heads Up Landscape Contractors is celebrating women in the workplace.
The company, located in Albuquerque, New Mexico, is celebrating the fact that it ranks higher than the national average for the number of women at the company.
"According to the Bureau of Labor Statistics, 7.4 percent of the 1.3 million total employed in landscaping services are women," says Gary Mallory, CEO and founder of Heads Up Landscape Contractors. "Our last payroll was 300 employees, 27 of which were women. That is 9 percent. Family friendly policies and a practice of hiring the best person for the job make Heads Up an attractive place for anyone to work."
Women at Heads Up are employed as designers, account managers, project managers and supervisors, marketing, human resources, administrative staff and interns.
Of the company's 14 interns, five of which are women and one has become a part-time employee.