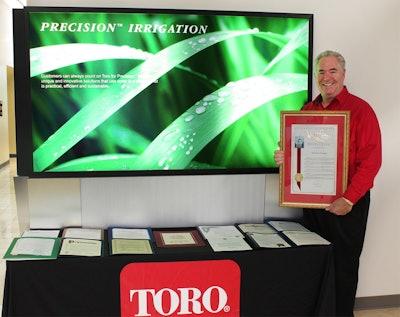 Assemblyman Eric Linder, who represents the 60th Assembly District in the State of California, honored The Toro Company for its support and effort of "Smart Irrigation Month" with local water districts, cities and the State of California.
The Irrigation Association first launched the initiative in 2005 and intended to raise awareness about preserving water throughout the month of July.
The Toro Company reached out to government agencies and elected officials to help spread the message of "Smart Irrigation Month".
The company was successful in proclaiming the month of July as "Smart irrigation Month" in three states, eight cities and two water districts including: The State of California, the State of New Jersey, the State of Oklahoma, the City of Los Angeles, the City of Riverside, the City of Ontario, the City of Upland, the City of Grand Terrace, the City of Chino, the City of Chino Hills, the City of Loma Linda, the Cucamonga Valley Water District, and the San Bernardino City Water District.