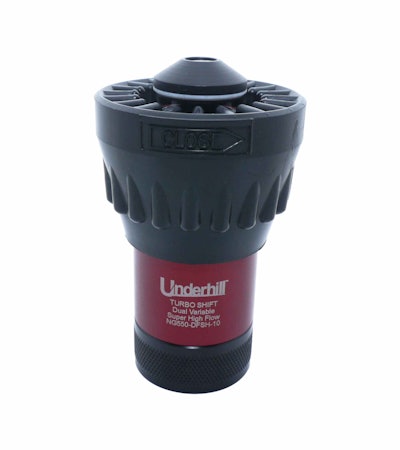 Designed with "firefighter quality", Turbo Shift from Underhill International is the latest addition to its line of nozzles.
Added to Underhill's Magnum UltraMax line, the nozzle features dual variable flow that delivers light fog and low volume jet stream patterns before shifting to high-gear, high-volume outputs.
The nozzle comes in five models with either pistol or firefighter grips.
The Low Flow model opens with seven to 12 GPM and turbo shifts from 14 to 17 GPM. The High Flow model opens with 12 to 17 GPM and turbo shifts from 20 to 43 GPM. The Super High Flow model performs from 34 to 104 GPM. All flow rates are based on 80 psi.
The pistol grip and firefighter grips have ball valves and push-pull on/off control handles. All of the models have ¾-inch or 1-inch inlets.
The nozzle is constructed from aircraft aluminum, stainless steel and TPR rubber.