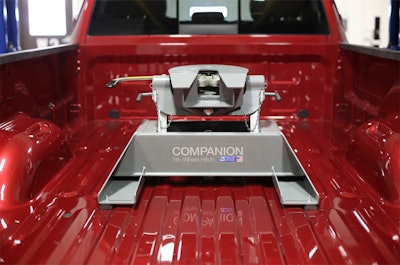 B&W Trailer Hitches has introduced a new hitch to its lineup.
The RVB3500 Companion fifth wheel aftermarket trailer hitch features a Turnoverball mounting design, which has single-point hitch installation.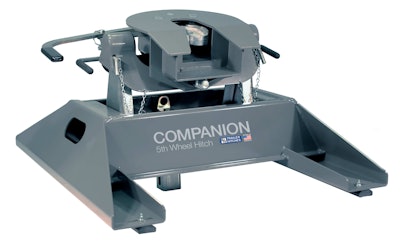 Featuring a 20,000-pound towing capacity, the hitch has two adjustable pivot arms that can be oriented horizontally, relative to the truck's axle, and vertically to allow trailers to clear the taller truck bed walls.
Adjustable plastic feet on the hitch allow it to adapt and mount to a variety of truck bed corrugation patterns.
The single-post hitch has adaptable leveling feet for stabilization, and bolts lock it in into position.
Pivot arms are adjustable with a height range of 16 ¼ inches to 18 ¼ inches.
The arms are made of polyurethane bushings, which allow the locked coupler head to move.
The coupler head is fitted with a hydraulic dampening mechanism that absorbs road shock and tilts up to seven degrees.