From offering erosion solutions to running a retail design center, this high-end landscaper has done it all in a short time.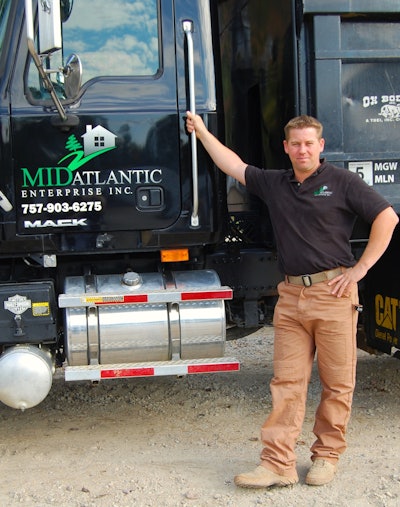 When you ask David Barglof what type of work he likes to take on, the owner of Mid Atlantic Enterprise will tell you the more challenging, the better. And with projects varying from Greek revival pool houses to a dream master bath, one gets the sense there's nothing he won't take on.
Looking at Barglof's portfolio, it's difficult to believe he launched the Williamsburg, Virginia-based firm in just 2007. It's a testament to Barglof's drive and determination that he, along with his wife Angela, could take the company from nothing to a seven-figure annual volume in such a short period of time.
However, it hasn't always been easy.
As a U.S. Army veteran, injured in the Middle East and just out of rehab, Barglof knew he wanted to put his general contracting background to use. However, he had nothing – not even a truck.
He bought a few tools and began taking on small projects such as patios. He eventually was able to purchase a loader/trailer combo; but, it was stolen the night it was delivered, before Barglof even had insurance coverage on the equipment. Barglof was undeterred.
He knew what he wanted – he'd even designed the company's logo while he was still deployed in Iraq – and felt he could bring something unique to the Williamsburg area.
A world of difference
Today, Barglof rarely handles small patio projects: Mid Atlantic Enterprise has transformed into a high-end design/build company catering to an exclusive clientele.
"The firm is a hybrid between construction and landscaping," Barglof says. "I've been getting away from hiring people in the green industry. With the type of work we're doing, I'm looking for people with civil engineering and general construction backgrounds."
He says they like tackling complete outdoor living projects including kitchens, pools, spas and complex storm-water management and erosion solutions.
Mid Atlantic Enterprise also has something unusual for the Williamsburg area – a storefront. Harmonious Hardscapes, which Barglof calls a custom outdoor-living retail design center, carries a range of materials for both landscape contractors and do-it-yourselfers. Staffed with retail sales personnel and overseen by Angie, the store also offers design services for those who need assistance.
"DIYers sometimes generate design fees," she says. "They need that one person who sees the whole vision."
Of course, Barglof say he feels the projects go more smoothly when the client allows them in on the ground floor, and he has a top-notch person to walk them through the process. Adam Heath, Mid Atlantic Enterprise's design director, is responsible for seeing the client's vision and executing it. Heath also likes a challenge.
"It's about communication, and it's a process," he says. "Vision management means knowing what the client's expectation is."
Rather than producing just a single-page, printed estimate and requiring the client to try to envision what the designer has in mind, Heath produces a color video mockup of the project so the customer can literally tour the finished project before an inch of ground is even disturbed. The approach allows the client to feel fully involved in the process, while eliminating miscommunication.
Building loyalty
Barglof's work ethic and attention to detail, not to mention his stunning work, has gained him loyal clients and lots of repeat business. When one client, Betsy McCarter, found out her home was most likely about to slide into a neighboring ravine, she suspected the situation would be difficult and expensive to correct. She called Barglof right away.
"He tried to break it to me gently, but the retaining wall and deck supports were eroding," she says. "He said they would fix it and walk us through every step of the process, starting from scratch. It was as painless as he could possibly make it."
"Vision management means knowing what the client's expectation is."
Barglof's team lifted the house, poured piers and built a new retaining wall for the McCarters. They also reworked the back patio, relocating the stairs to a better position and creating more outdoor living space for the McCarters to enjoy.
"Knowing and trusting who you're working with is important," McCarter says. With that in mind, when she decided she wanted to make her dream master bath a reality, she called Barglof. He didn't hesitate. "I thought, 'What's the difference between indoor and outdoor spaces anymore?'"
Since Mid Atlantic Enterprise had plenty of experience putting fabulous baths in posh pool houses, he didn't see a problem with an indoor bath. He gave McCarter the bath she'd always wanted, with special touches like heated floors and a custom closet. He also hid unsightly wall outlets in drawers for a high-end look. McCarter was thrilled, and not just with the quality of the work.
"They were always there for us. You're never in the situation as a client where you don't hear from them," she says. "There aren't that many companies that do that anymore."
Barglof knows the importance of maintaining trust and has instituted an open-book policy. At any time, his clients can ask to see his costs, and he will show them the spreadsheets.
Paul Casanave, Mid Atlantic's equipment dealer for the past few years, says all of Barglof's relationships are respectful and mutually beneficial. "Dave has a good relationship with everyone," he says. "I've seen him interact with technicians and his designer, and he works well with everyone."
Casanave says he feels Barglof is interested in promoting an accurate image of his company, and therefore keeps well-maintained, up-to-date equipment. "Dave's company always has the latest and greatest technology," he says.
Reputation matters
With satisfied customers and top-notch personnel, it wasn't long before word got around. "We did a little bit of promotion and branding, but our reputation just started to grow, and things exploded for us," Barglof says. "People were talking about their experiences with us."
Having Angie as a vice present was helpful, as she put her degree in corporate communications and marketing to good use. With the excellent word-of-mouth the company has received, though, they haven't had to do much advertising.
Having a great reputation also hasn't hurt Barglof in finding talented staff. He was able to bring on Alex Chorba, a well-regarded project manager with decades of experience in estimating and project management, and Barglof says having him on board has made a huge difference.
With respect to the community, the Barglofs enjoy giving back, donating time and materials on a wide range of projects for organizations such as Habitat for Humanity. Mid Atlantic Enterprise also sponsors a local golf tournament for charity. Active in a range of associations including the Virginia Society of Landscape Designers and SWAM Service Disabled Veteran Owned Small Business, Barglof has also been honored for his work with a 2012 HNA Hardscape Award.
A work in progress
Although Barglof says things are always evolving, he's doing a great deal of the types of projects he envisioned doing when he first had the idea to start Mid Atlantic Enterprise. "That's been my goal since the beginning," he says. "I want to get the whole staff on the same page."
Barglof says he is inspired and wants his people to continue to grow and have passion for the work. "I want them to see how cool the projects are," he says.