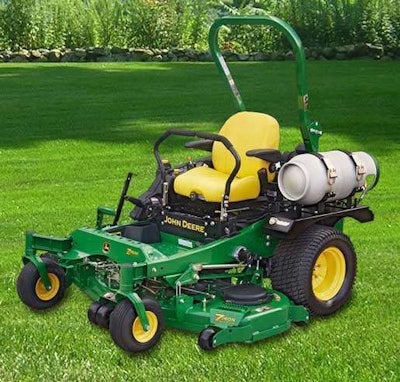 Dealer-installed propane option gives landscapers another fuel choice.
Sustainability and propane continued to be a hot top at this year's GIE+EXPO, with major manufacturers adding this fuel option to their equipment.
Landscape contractors can purchase a piece of John Deere equipment with a dealer-installed propane kit starting in December. The kit, which is designed and manufactured by EnviroGard, is available for ZTrak zero-turn mowers, QuickTrak stand-on mowers and commercial walk-behind mowers.
"Propane has emerged as a leading alternative fuel, and many of our customers are interested in exploring it for their businesses," says Steve Wilhelmi, John Deere tactical marketing manager.
The kit meets the Propane Education & Research Council (PERC) requirements for funding – up to $1,000 credit – and some units converted after the initial purchase may be eligible for a $500 credit.
The propane kits can also be used to retrofit several John Deere commercial mowers from previous years. For more information about the conversion kits, visit johndeere.com/mowpro.