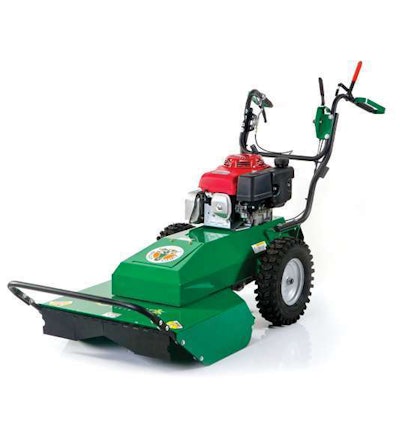 Billy Goat introduced the BC2600HM and BC2600ICM mechanical drive, fixed-deck models to supersede the prior BC2403 series of Outback brush cutters at GIE+EXPO.
The BC2600 series features a 26-inch deck, higher tip speed, a rubberized rear deck trim, heavier spindle assembly, improved shifting at the control panel, a shifting linkage for longer cable life, thicker and wider ergonomic handles and a low engine oil alarm.
The Outback is ideal for meadow mowing and compliments the articulating deck, hydraulic drive units with Enhanced Traction Control (ETC) introduced in 2012 that is positioned for more severe terrain and hilly applications (BC2600HH/BC2600HEBH).
Both series are designed to cut brush as high as 6 feet and saplings up to 2 inches in diameter. They are also designed take the abuse of hitting all those hidden items such as rocks, stumps, fence posts and tires. The heavy-duty blade spindle is reinforced in four directions and connects via a heavy-duty belt to protect the engine.
The BC2600 Fixed Deck is powered by either a 11.5-horespower Briggs (BC2600ICM) or 13-horsepower Honda engine(BC2600HM). These brush cutters will be available in January.