The Toro Company introduced a variety of products at GIE+EXPO this year, including a Titan Zero-Turn mower line, a single-stage snow blower, a 21-inch heavy-duty mower line and a SmartStow mower.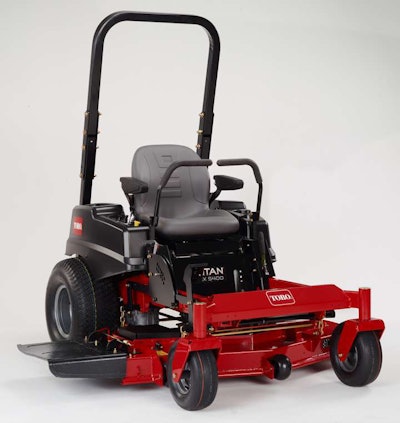 Titan Zero-Turn Riding Mowers
Featuring five different models, the Titan mowers are built on 1.5-inch by 3-inch tubular frames, equipped with Hydro-Gear ZT-3100 commercial hydrostatic transmissions and include 22-inch diameter rear tires.
The fully welded steel deck features commercial-grade spindle housings with 1-inch diameter shafts and a bull-nose front bumper. Kawasaki engines power the entire line.
A flip-up floor pan creates easy access to the top of the deck, as well as the dual deck washout ports to pressure wash the inside of the deck by hooking up a garden hose and turning on the blades.
The Titan MX Series includes the same features found on ZX models, but includes a few extra options. The MX has wider 13-inch by 6.5-inch front tires.
The seat has a floating adjustable suspension, and Toro also incorporated oversized comfort grip controls to help reduce fatigue.
The mowers come with an optional attachment – a cargo carrier that mounts directly to the frame. All mowers come with a hitch that can be used to pull Brinly-Hardy attachments, such as aerators, sweepers, carts, dethatchers and sprayers. Also available is a twin bagger kit for everyday grass clipping and leaf collection, as well as an E-Z Vac Powered Bagger Kit, which uses a belt-driven blower for extra vacuum power, even in wet conditions.
4-inch deck: 21.5 horsepower Kawasaki engine
54-inch deck: 23 horsepower Kawasaki engine
60-inch deck: 24 horsepower Kawasaki engine
50-inch deck: 23 horsepower Kawasaki engine
60-inch deck: 24 horsepower Kawasaki engine
_______________________________________________________________________________
The Toro Power Clear single-stage snowblower

The single-stage snowblower features a Power Propel drive system, and the Power Clear's scraper keeps the Power Curve rotor in constant contact with the pavement.
This feature pulls the snowblower forward and clears snow down to the pavement, throwing it up to 35 feet.
Weighing in at 84 pounds, the snowblower features Toro's 212cc Overhead Valve (OHV) 4-cycle engine. This model offers the capacity to move up to 1,900 pounds of snow per minute.
The snowblower can clear a path up to 21 inches wide, and operators can change the chute direction up to 210 degrees of rotation.
The Zip Deflector throws snow high, low or in between.
_______________________________________________________________________________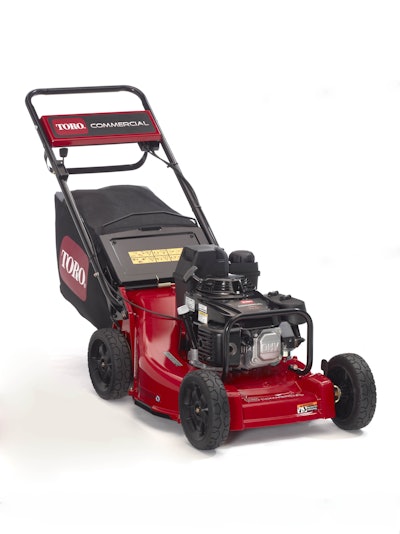 Toro 21-Inch Commercial Heavy-Duty Mowers
The mower line includes five different models that feature the Recycler cutting system and a four-point height-of-cut system.
The models are equipped with either a Honda or Kawasaki engine and select models feature a three-speed internal differential transmission.
These mowers travel up to 4.2 mph and offer 1- to 4.5-inch cutting heights.
All five mowers in the new line come equipped with a self-propelled Zone Start or Blade Stop System.
The Blade Brake Clutch system enables operators to disengage the blades without shutting down the engine.
The Recycler cutting system comes with a 2.1-bushel bag and has two kickers for recycling and bagging.
The operating handle can be adjusted to three different height positions and features a handle mount. In addition, the 9-inch commercial-grade wheels utilize sealed ball bearings and steel pivot arms. Select models also have a one-gallon gas tank.
_______________________________________________________________________________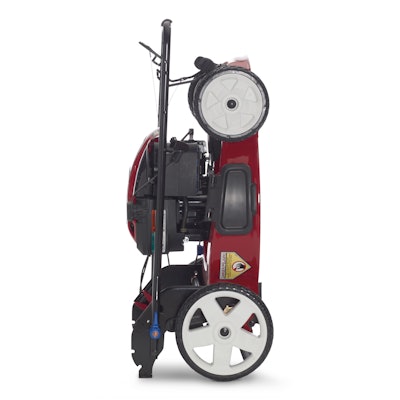 Toro Recycler mower with SmartStow
The Toro Recycler mower with SmartStow can be stored vertically, reducing the storage footprint of a mower by up to 70 percent.
The Mow 'N' Stow technology from Briggs & Stratton made the space-saving mower possible.
A "no-weep" carburetor and a fuel tank design create tighter seals and gaskets.
The Recycler with SmartStow features Toro's 22-inch deck with Recycler mowing technology.
The Recycler with SmartStow also features side-discharge capabilities.
The machine features an 11-inch rear high-wheel design, and a variable speed self-propel system with front wheel drive.
The mower is powered by a 7.25 foot-pounds gross torque engine.