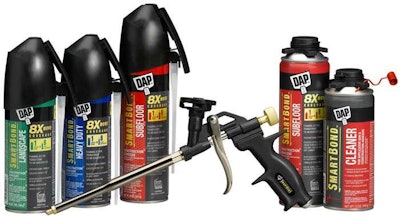 DAP launched a new microsite for its recently released line of SmartBond Construction Adhesives.
The desktop and mobile-friendly website helps end-users learn about the SmartBond Construction Adhesives through a variety of ways.
The SmartBond product is a polyurethane adhesive foaming gel.
The site features a SmartBond Coverage Calculator, which lets users see how much product is needed for a job.
Additional site features include:
– Product demonstration videos that explain SmartBond's collapsible foam chemistry
– Detailed product information for all three SmartBond formulas: Subfloor, Heavy Duty and Landscape
– FAQs drawn from contractor questions about SmartBond
– A GPS locator that identifies the closest Home Depot
– English and Spanish language availability