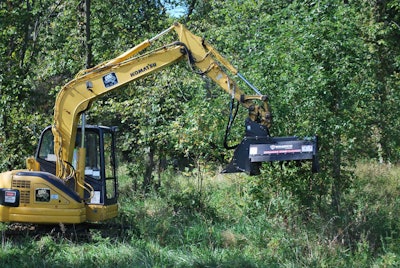 Paladin Attachments has introduced a new attachment for excavators.
Capable of clearing tall grasses, heavy brush and trees up to 4 to 6 inches in diameter, the Bradco Flail Mowers feature a bi-directional cutting and discharge system that allows operators to control the direction of cut materials away from buildings, roadways and bystanders.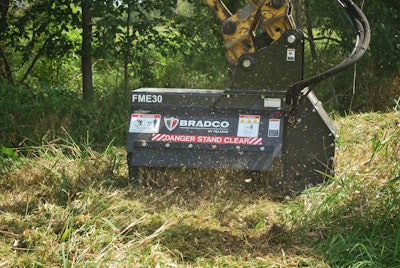 When the excavator is equipped with a case drain, the blades are designed to come to a complete stop within four to five seconds for safety.
The attachments are available in Light Duty (FME30) for mounting on 3- to 6-ton excavators and Heavy Duty (FME40) for mounting on 6- to 10-ton excavators.
The drive train on the attachments feature a torsion disc to help protect the motor and drive assembly from damage by absorbing the impact force from the cutting blades.
The attachments also include a staggered blade pattern to reduce the transfer of cyclical cutting blade impact forces to the drive train.
Skid shoes come standard, and the attachments feature flanges on both ends of the rotor.
The FME40 Heavy Duty Flail Mower also features an optional thumb saddle that can be used with or without an excavator thumb.