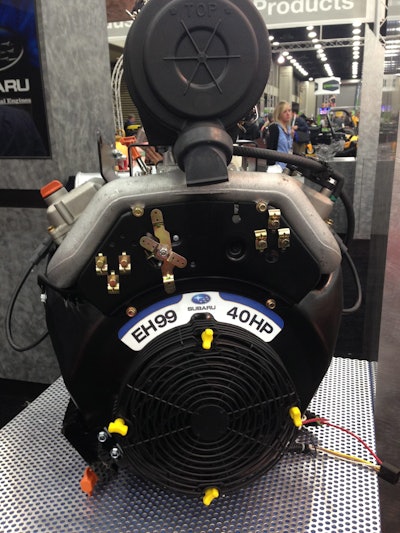 Subaru Industrial Engines featured its big block V-Twin engines at GIE+EXPO in Louisville, Kentucky with a few updates since their first debut at World of Concrete back in January.
The 35-horsepower EH90 and 40-horsepower EH99 are 999cc and feature connecting rods, large crankshaft bearings and three-ring pistons. The hardened exhaust valve and seats can handle high temperatures.
The Subaru engines now include a temperature sensor that monitors the engine operating condition and sounds a loud alarm to warn the operator if the engine overheats. This allows the user to stop the engine and clear the debris to prevent damage to their engine.
Also, both models are equipped with a low-pressure sensor that prompts an automatic engine shutoff when oil pressure gets too low.
The pressurized lubrication system allows the OHV (overhead valve) engine to use an automotive grade spin-on oil filter, which removes dirt and carbon solids to keep the oil clean and extend the time between oil changes. The engine also has an oversized oil cooler to reduce the temperature of the oil in the engine.
In addition, the standard four-cycle OHV gasoline engines feature a dual element air filter that protects the engine from dust and reduces maintenance. An optional Donaldson canister style air cleaner has an inlet pre-cleaner, which offers additional filtration by removing a majority of the particles before they reach the filter, thereby minimizing maintenance and extending the intervals between cleanings or filter changes. The engines come standard with a low-mount air filter.