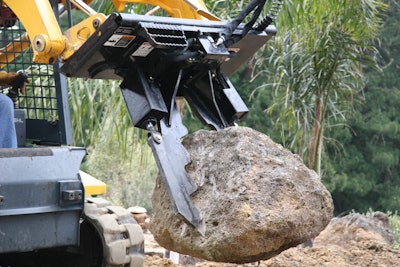 Paladin Attachments, in partnership with Star Hill Solutions, has introduced Bradco Jawz Grabbing Tools to its Vegetation Management products.
Available for skid steers or compact tractors, the attachments help remove invasive trees and shrubs with full root systems and feature a set of T1 steel fingers (pinchers) powered by dual cylinders.
For more compact jobs, the Bradco Mini-Jaws mounts on a compact tool carrier.
In addition to vegetation removal, the Bradco Jawz Grabbing Tools are also capable of handling specialized materials like boulders, logs, metal or wood posts, and metal objects.