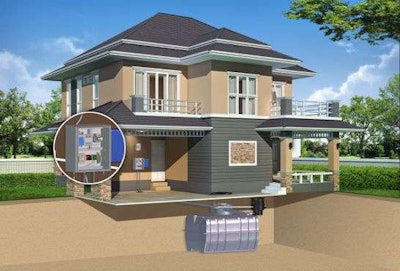 Ewing Irrigation Products and Munro Systems have created the Smart Harvest System.
The Smart Harvest System features:
Sensing technology of a submersible transducer is used in place of industry standard float switches, allowing for easy maintenance and level changes without entering the storage tank.
A submersible pump offers noncorrosive construction, cool and quiet operation, and energy efficient operation for low maintenance.
A Variable Frequency Drive (VFD) allows for the use of a three-phase, 230-volt pump on a standard 120-volt energy source. The VFD can alter the frequency of a pump to reduce motor speed, flow and energy consumption, making it especially effective in low-flow situations.
A level processor enables easy level changes with access to multiple points of water connection; this allows the system to bypass a cistern if water levels are low and refill from an alternate water source.
An control panel offers operation with display controls and a variety of notification light options for monitoring.
The system is compatible with above ground, under ground or pond storage, and ideal for rainwater harvesting and other water harvesting applications.