A mower manufacturer made its debut into the green industry during GIE+EXPO.
Altoz, based in Greenbush, Minnesota, unveiled 18 mower models that have travel speeds up to 19 mph.
"We want landscapers to have mowers they are proud to own," says Dennis Brazier, owner of Altoz.
XC S Line
With three deck and engine sizes available, the XC S line uses the Aero Deck high-output system. The deck drive system and clutch produce 200-foot-pounds of torque.
The line also includes heavy-duty spindles, belt idlers, rugged front forks, sealed fork castors and watertight electrical connections. The 2014 Altoz XC S line is available in three sizes (XC 540 S, XC 610 S, XC 720 S).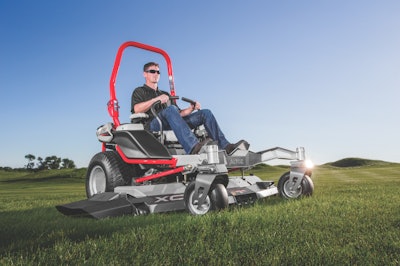 XC Z Line
This line has a top speed of 19 mph and 250-foot-pounds of torque. The XC Z line features the SmarTrak monitoring system, which has built-in maintenance reminders, a digital RPM gauge, alarm protection and on-board clock.
The line is available with 54-, 61- and 72-inch decks. It has duel fuel tanks that hold 7 gallons.
XP S Line
The 2014 Altoz XP S line (XP 480 S, XP 540 S, XP 610 S) consists of a choice of three deck sizes and two Briggs & Stratton engine options.
The mowers are available with 48-, 54- and 61-inch deck widths. The Aero Deck high-output system has a 4.5-inch, deep-deck shape with adjustable baffle. Three blades with 12 cutting edges and 18,500 fpm tip speed deliver extra-fine mulching. The XP S line tops out at 9 mph and holds 7 gallons of fuel.
XP Z Line
Available with 54- or 61-inch decks, the XP Z line has dual 7-gallon tanks and travels up to 9 mph. The foot pedal operated lift provides cut-height adjustments in 1/4-inch increments from 1 1/2 to 4 1/2 inches.
Six anti-scalp wheels with adjustable heights are recessed within the deck.