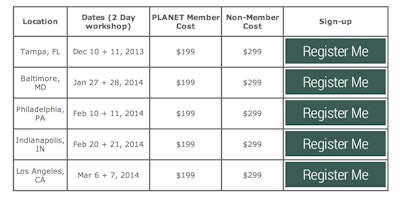 PLANET is partnering with Landscape Management Network and Caterpillar, to bring two-day landscape business workshops to five locations across the country this winter.
Attendees will calculate what his or her company needs to charge for labor, equipment, and materials to ensure every job is priced for profit.The hand's-on workshops enable attendees to use their own company financial data to customize a plan for sales, wages, equipment, and overhead spending.
Workshops will be held in Tampa, Dec. 10–11; Baltimore, Jan. 27–28; Philadelphia, Feb. 10–11; Indianapolis, Feb. 20–21, and Los Angeles, March 6–7.
The workshops are approved for 1 CEU per hour of instruction attended.
Workshops cost $199 for PLANET members and $299 for nonmembers.