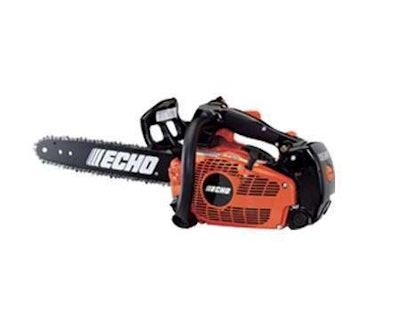 At the Tree Care Industry EXPO in Charlotte, North Carolina, Echo featured its handle saw, the CS-355T, and its new highest horsepower per displacement saw, the CS-620P.
Weighing 8 pounds, the Echo CS-355T chain saw has a 35.8cc commercial grade, two-stroke engine that delivers 25 percent more power than the CS-360T. The chain saw features a palm rest that adjusts to three palm sizes, cut-outs on the dual-post chain brake handle and rear-mounted air filter.
Formally launched in July, the CS-620P is a 59.8cc chain saw. Based on the CS-600P engine design but modified for more power, the CS-620P is 13 percent more powerful than the CS-600P. The CS-620 has a sister product called the CS-620PW which features a wrap aluminum handle to give the user more options when felling a tree.
Also highlighted at the show was Echo's CS-590 Timber Wolf. Positioned within the 55-60cc semi-pro chain saw segment, the Echo Timber Wolf is available in 18-inch and 20-inch bar lengths. The CS-590 is powered by a 59.8cc professional-grade engine.