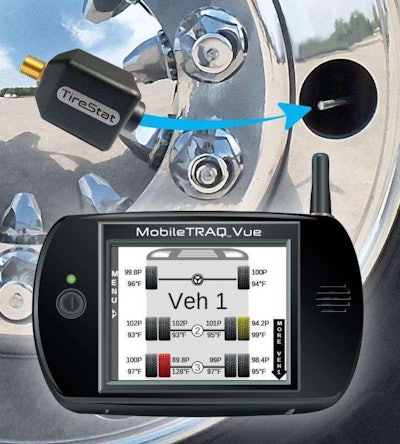 Mobile Awareness has released the MobileTRAQ Vue, integrated with TireStat TPMS sensors.
MobileTRAQ Vue is a commercial-grade monitoring and maintenance system.
Featuring a programmable color touch-screen display that allows the driver to see and hear warnings, the MobileTRAQ platform was developed to readily connect with Mobile Awareness wired and wireless sensors, the first of which is TireStat TPMS.
TireStat TPMS is a flow-thru tire sensor mountable inside the tire or externally on the valve stem. The TPMS sensors transmit data every 60 seconds to the MobileTRAQ monitor, with pressure and temperature events triggering the system to alarm in real-time.
The TireStat battery life of up to 10 years and an operating temperature of -40°F to 257°F (-40°C to 125°C).
MobileTRAQ Vue integrated with TireStat TPMS offers the user early warning indications, as well as adjustable tire alarm levels.
Additional features include various integrated telematics communication interfaces for monitoring inside the vehicle and remotely.
The MobileTRAQ will provide updates and feature upgrades including voice enunciation, driver logs and inspection forms.