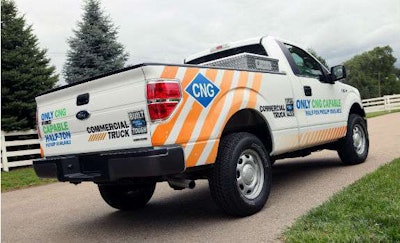 Ford has started production on the 2014 F-150 with the ability to run on compressed natural gas.
The 2014 Ford F-150 will feature a 3.7-liter V6 engine available with a factory-installed, gaseous fuel prep package with valves, valve seats and pistons and rings.
Ford says the 3.7-liter V6 F-150 is capable of achieving more than 750 miles on combined tanks of gasoline and CNG with a bi-fuel CNG/LPG engine package.
The Ford F-150 with 3.7-liter V6 has an EPA-estimated rating of 23 mpg on the highway and 19 mpg combined.
CNG sells for an average of $2.10 per gallon of gasoline equivalent, and is as low as $1 in some parts of the country. The national average for unleaded regular fuel is $3.29 per gallon.
Customers also can accelerate the payback period by taking advantage of state incentives. Approximately 20 states offer or soon will provide tax incentives or rebates for CNG-converted vehicles.