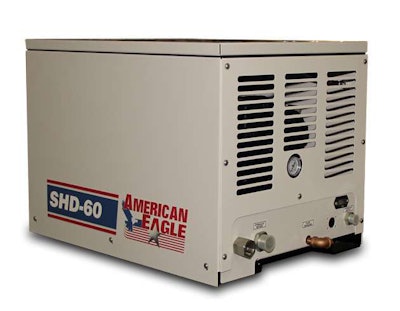 American Eagle Accessories Group has updated the SHD-60 hydraulic drive truck-mounted air compressor for improved installation, maintenance and serviceability.
To be on display at the NTEA Work Truck Show in Indianapolis, Indiana and at the Con Expo/CON AGG show in Las Vegas, the SHD-60 includes a new metal enclosure with a flip-up lid and new front-mount bulkhead connectors.
The flip-up lid provides access to check oil levels and change the air filter. The reconfigured front-mount bulkhead connectors improve the installation and maintenance process.
The SHD-60 is designed to provide air output using a hydraulic direct-drive system. It has no belts to break or adjust and provides a 30 CFM at 100 psi. It is built around a ductile iron balance crankshaft with journal bushings and micro-honed connecting rods that are lubricated by an integral oil pump.